The main excuse for not making a packed lunch is often that time is lacking. Fortunately, we have gathered a few lunch recipes that are super quick to make and that will have you look forward to lunchtime.
Crab Roll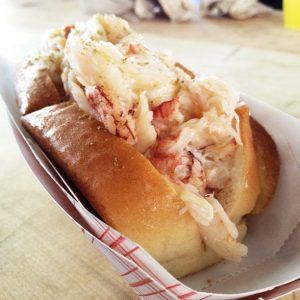 This twist on the lobster roll is very easy to make and you can make the filling and refrigerate it for up to 1 day before eating.
Crab Roll Recipe
Author:
Ingredients
1/4 cup low-fat mayonnaise
1 tablespoon freshly grated lemon zest
3 tablespoons lemon juice
10 dashes hot sauce, such as Tabasco
1/2 teaspoon freshly ground pepper
1/8 teaspoon salt
1/4 cup finely chopped shallot
1/4 cup finely chopped celery
1/4 cup thinly sliced fresh chives, divided
2 cups cooked crabmeat
8 leaves red or green leaf lettuce
4 whole-wheat hot dog buns (toasted, if desired)
Instructions
Whisk mayonnaise, lemon zest, lemon juice, hot sauce, pepper and salt in a medium bowl.
Thoroughly mix in shallot, celery and 3 tablespoons chives. Mix in crab very gently so it doesn't break up too much.
Line each bun with lettuce and divide the crab filling among the buns. Garnish with the remaining 1 tablespoon chives.
 Salmon Club Sandwich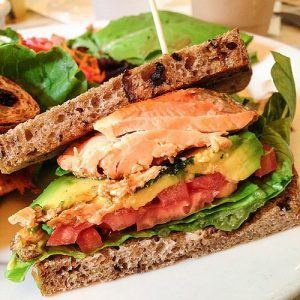 This version of a traditional club sandwich includes the health benefits of salmon as well as a delicious flavour combination! You can use any type of thin bread you like.
Smoked Salmon Club Sandwich Recipe
Author:
Ingredients
6 Tbs. mayonnaise
1 canned chipotle chile, minced
2 tsp. Worcestershire sauce
12 slices thin-sliced sandwich bread, toasted
225g thinly sliced smoked salmon (or cooked salmon)
2 medium ripe avocados, halved, pitted, peeled, and thinly sliced
Salt
8 small lettuce leaves
1 large ripe tomato, thinly sliced
Instructions
Mix the mayonnaise, chipotle, and Worcestershire sauce in a small bowl. Spread one side of each piece of toast with the chipotle mayonnaise.
Distribute half of the salmon and half of the avocado slices among four pieces of toast. Sprinkle the avocado lightly with salt and then top with the lettuce and 4 more pieces of toast.
Distribute the remaining salmon and avocado among the four sandwiches. Sprinkle the avocado with salt, top with the tomato, and sprinkle the tomato lightly with salt. Top with the remaining toast. Cut each sandwich into halves or quarters and serve.
 Tuna Sandwich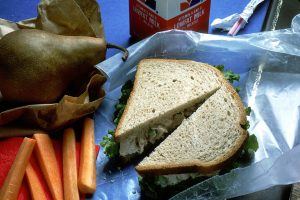 A lovely twist on your traditional tuna-mayo sandwich. This sandwich can be enjoyed hot or cold.
Grilled Tuna Sandwich Recipe
Author:
Ingredients
8 slices whole-wheat or sourdough bread
3 tablespoons canola oil
2 225g tuna fillets or steaks, about 1 inch thick
1/2 teaspoon plus 1 tablespoon chili powder, divided
1/4 teaspoon salt
1/2 cup low-fat mayonnaise
1 teaspoon freshly grated lemon zest
1 tablespoon lemon juice
3 cups watercress
Instructions
Preheat grill to medium-high.
Lightly brush bread slices with oil. Brush tuna with the remaining oil and sprinkle with 1/2 teaspoon chili powder and salt.
Grill the tuna, turning once, until cooked through, 4 to 6 minutes per side. Transfer to a clean cutting board. Grill the bread, turning once, until beginning to brown, about 1 minute per side.
Combine mayonnaise, lemon zest, lemon juice and the remaining 1 tablespoon chili powder in a small bowl. Thinly slice the tuna with the grain.
To assemble the sandwiches, spread about 2 tablespoons of the lemon-chili mayonnaise over 4 slices of bread. Top with about 3/4 cup watercress, the tuna and the remaining slices of bread.