Pasta is a fantastic staple. From a rustic and comforting meal to a sophisticated dinner option, pasta is SO versatile and can truly be customised to your personal preferences. This lovely seafood pasta dish would be perfect for all occasions! Feel free to add in scallops, monkfish or lobster for a more luxurious dish!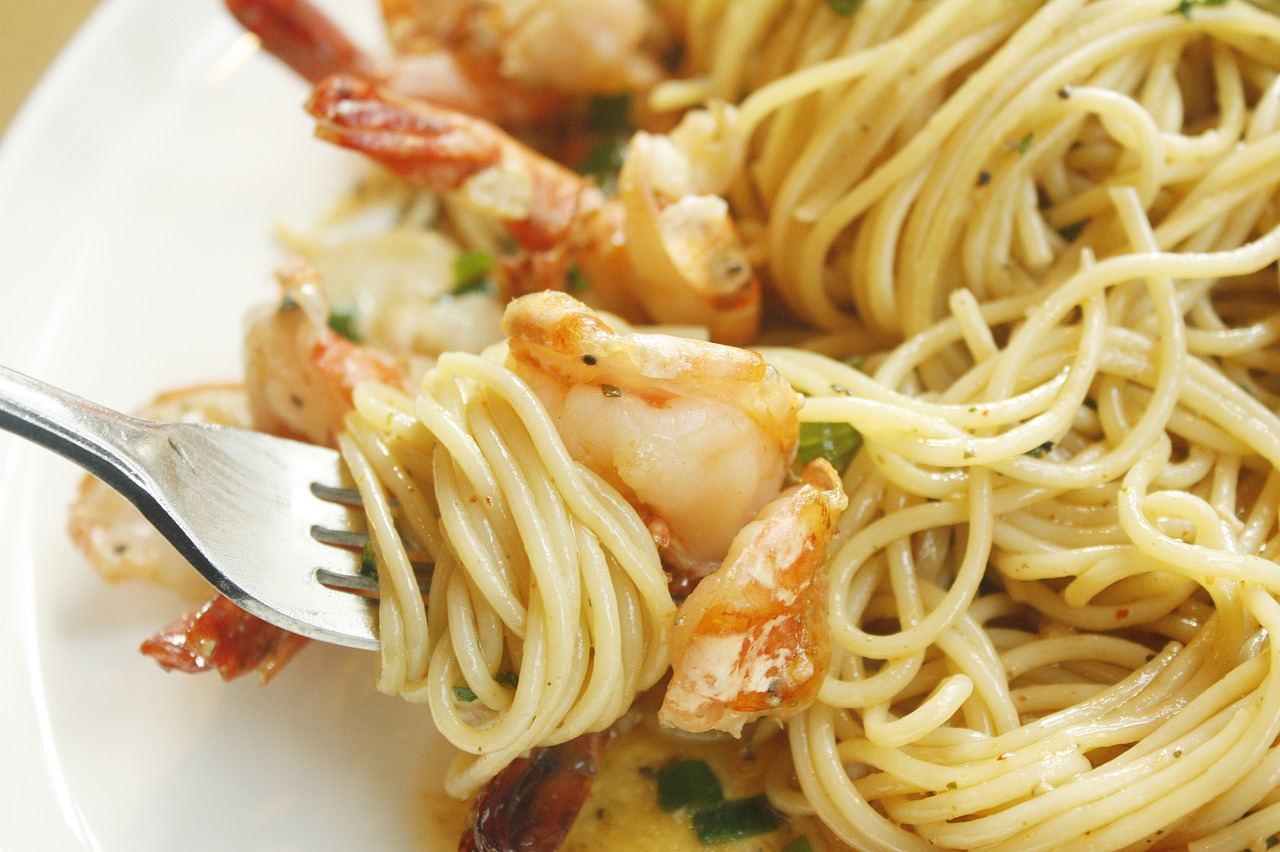 Seafood Pasta with Garlic Bread
Author:
To save time, you can buy ready-made garlic bread but making your own will make that recipe extra special.
Ingredients
For the garlic bread
2 slices ciabatta
1-2 tbsp olive oil
25g softened butter
½ clove garlic
1 tbsp finely chopped parsley
For the pasta
200g fresh pasta such as linguine or tagliatelle
For the seafood sauce
2 tbsp olive oil
1 banana shallot, finely chopped
1 clove garlic, finely chopped
1 tsp dried chilli flakes
200g cherry tomatoes
2 tbsp vermouth
handful fresh mussels, cleaned and beards pulled off (tap any open mussels on a firm surface; discard any that don't shut tightly within a few seconds)
handful raw tiger prawns, peeled, deveined
1 medium squid, cleaned, cut into rings
3 tbsp crème fraîche
small handful tarragon leaves, shredded
small handful basil leaves, shredded, plus extra to garnish
½ lemon, juice only
sea salt and freshly ground black pepper
salad leaves, lightly dressed with olive oil and lemon juice, to serve
Instructions
For the garlic bread, heat a griddle pan until hot, brush both sides of the bread with the oil and cook both sides until browned. Mix the butter, garlic and parsley together and spread on the hot toast. Keep warm.
For the pasta, bring a large pan of salted water to the boil. Add the pasta and cook according to packet instructions then drain, reserving some of the cooking water, and keep warm.
Meanwhile, for the seafood, heat the olive oil in a large frying pan over a medium heat. Add the shallot and garlic and fry gently for 2-3 minutes until softened. Stir in the chilli flakes, cherry tomatoes and vermouth, increase the heat to high and boil for 3-4 minutes.
Add the mussels, cover the pan and cook for 1-2 minutes then add the prawns and squid and stir into the hot sauce. Cook for 2-3 minutes, or until the prawns turn pink and the mussels open (discard any that remain closed at this stage).
Add the pasta and crème fraîche and toss the contents of the pan to mix everything together, adding a little of the pasta water to bring it to a saucy consistency. Stir in the tarragon and basil and season with sea salt and freshly ground black pepper.
To serve, transfer the pasta into serving bowls, making sure you have some seafood on top. Finish with a sprig of basil and a squeeze of lemon and serve with the garlic bread and salad on the side.