There are plenty of ways to add more fish & seafood to your Christmas dinner, even if Turkey is your choice of main course this year! This delicious oyster stuffing recipe will be a nice addition to a roast turkey. You can cook the stuffing separately or inside the turkey (see our tips at the end).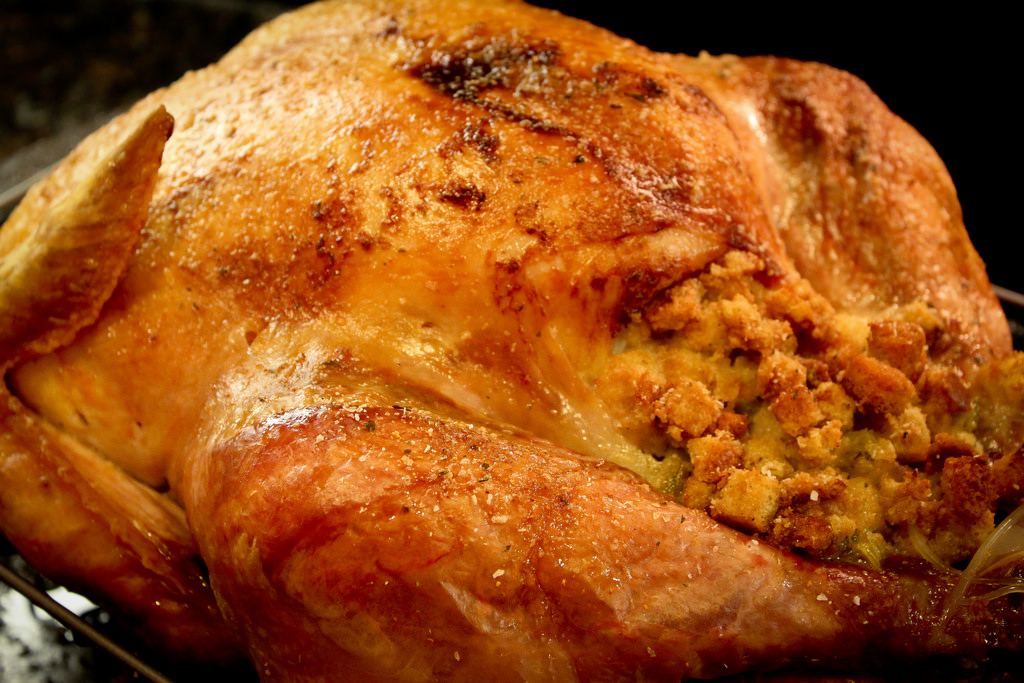 Oyster Stuffing for Turkey
Author:
This recipe makes about 10 cups of stuffing.
Ingredients
3/4 cup butter (or margarine)
1 cup onion, finely chopped
3/4 cup celery, finely chopped, with leaves
2 1/4 cups oysters, drained and chopped (reserve the juice if desired)
1 tbsp. poultry seasoning
1 tsp. salt (or to taste)
1/2 tsp. black pepper
1/4 cup parsley, chopped
10 to 12 cups soft bread crumbs
1/2 to 1 cup low sodium chicken broth (or stock or part oyster liquid)
2 eggs, beaten
Instructions
Melt the butter in a large skillet over medium heat; add onion and celery. Cook, stirring for 5 minutes; add the oysters, poultry seasoning, salt, pepper, and parsley and cook for an additional 5 minutes.
Add the bread and 1/2 cup of chicken broth; stir to blend ingredients. Taste and adjust seasonings.
Add beaten eggs and mix well, adding more chicken broth to moisten, if necessary.
To stuff a turkey, fill the cavity loosely with the stuffing mixture. Before taking the turkey from the oven, make sure the centre of the stuffing has reached the minimum safe temperature of 74 C. The turkey might be done, but if there is stuffing in the bird, it should also be checked.
To cook the stuffing separately, heat the oven to 180 C. Spray a shallow baking dish with nonstick cooking spray or butter it lightly. Pack the stuffing mixture in the baking dish. Cover with foil and bake for 30 minutes. Uncover and bake for 25 to 30 minutes longer, or until the stuffing registers at least 71.1 C.
 
Stuffing tips:
When stuffing a turkey, stuff it loosely, allowing about 3/4 cup per pound of poultry. 9 to 10 cups should be enough for a 12- to 14-pound turkey.
As soon as the stuffing is prepared and moistened, stuff the bird. Don't cool the stuffing first. Roast the raw, stuffed turkey immediately.
Never cook a stuffed turkey at an oven temperature below 165 C.
Do not remove the stuffing from the turkey before it has reached the minimum safe temperature of 74 C.
Let the roasted turkey rest for 20 minutes before removing the stuffing and carving.
Refrigerate leftovers (stuffing, turkey, etc.) within 2 hours after cooking.
Store leftovers in shallow containers in the refrigerator, and use within 3 to 4 days.
Reheat leftovers to the safe minimum temperature of 74 C.