It's the last few days before Christmas and some of us are still planning for the big day! If you're looking for ideas for appetisers or canapes, don't panic, we've got you covered!
Smoked salmon is a tasty treat, it can be used in a wide variety of recipes and can be an ally of choice when looking for quick and easy canapes that will impress your guests this Christmas. These can also be perfect for New Year's Eve if you're hosting a party!
Smoked Salmon Pinwheels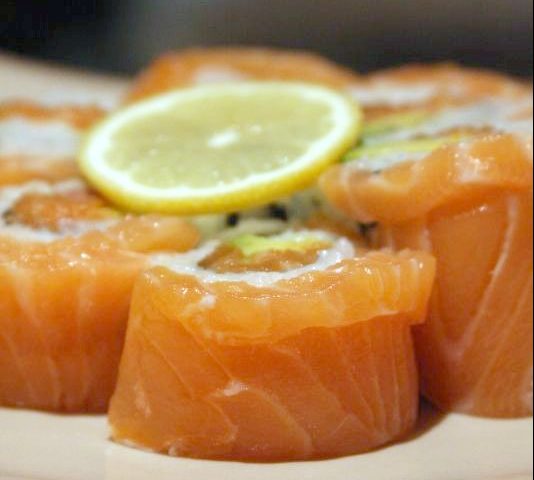 Smoked Salmon Pinwheels
Author:
This recipe makes about 12 pinwheels.
Ingredients
200g Smoked Salmon slices
150g Cream Cheese
1 small pack of fresh dill
Instructions
On a chopping board lay out the smoked salmon slices.
Spread the cream cheese over the surface of the fish.
Starting from the top edge, carefully roll the smoked salmon and cheese up to make a long sausage
Place into freezer-proof container and pop into the freezer for 20 minutes to firm up.
With a very sharp knife gently cut – using a sawing acting – down the roll at 2 cm intervals (wiping the knife on a paper town between slices).
Arrange the wheels on a serving plate and sprinkle with chopped dill.
Smoked Salmon Blinis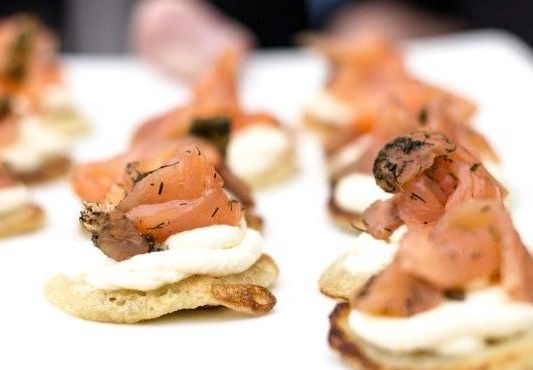 Smoked Salmon Blinis
Author:
To save time, this recipe uses shop-bought blinis but if you have more time feel free to
make them yourself
! This recipe makes about 20 -24 blinis.
Ingredients
1 lemon, zest and juice only
200g smoked salmon
20-24 ready-made cocktail blinis
1 small shallot, finely chopped
142ml soured cream
small bunch fresh dill
freshly ground black pepper
Instructions
Use a lemon zester or a peeler to remove thin strips of zest from the lemon, taking care to avoid the white pith, which tastes bitter. Put the strips to one side.
To dice the salmon, pile up the slices of smoked salmon into a stack. Using a very sharp knife, cut across the stack to give you thin strips. Turn the stack 90 degrees and cut across the strips again so that end up with fine dice. Place into a bowl.
Add the juice of half of the lemon, or more to taste, and season with freshly ground black pepper.
Add the finely chopped shallot and mix well.
To serve, spread a layer of soured cream onto each blini. Place a spoonful of the salmon mixture on top of the soured cream and garnish each with a small sprig of dill and a strip of lemon zest.
Smoked Salmon & Guacamole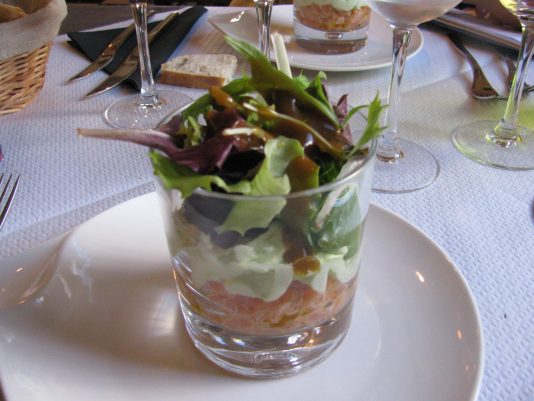 Smoked Salmon & Guacamole Shots
Author:
Serve these canapes with your choice of crackers or grissini.
Ingredients
340g sliced smoked salmon
100g cream cheese
200ml carton crème fraîche
Finely grated zest of 1 lime and the juice of 2 limes
2 ripe avocados
Small handful of chopped fresh coriander, plus extra leaves to garnish
Instructions
To prepare: Put 285g smoked salmon in a food processor and whizz until finely chopped. Add the cream cheese, crème fraîche and zest and juice of 1 lime. Season with salt and freshly ground black pepper and whizz until really smooth. Transfer the salmon mousse to a bowl, cover and chill for 15 minutes.
Halve and stone the avocados. Scoop the avocado flesh out into a food processor (ideally a mini one), add the juice of the remaining lime and the chopped coriander and season to taste with more salt and freshly ground black pepper. Whizz until really smooth. Cover and chill for 15 minutes.
Fill 6 shot glasses three-quarters full with the salmon mousse. Smooth the surface, then top with a neat layer of the avocado mixture. Place on a tray, cover with a large sheet of cling film and pop in the fridge for 30 minutes.
To serve: Remove the salmon mousses from the fridge 10 minutes before serving them. Cut the remaining smoked salmon into thin strips, then roughly fold them and place on top of each mousse. Top each with a coriander leaf and serve with crackers or grissini to spread with salmon and guacamole mousses.