Last week, we detailed 3 methods so you can safely defrost frozen prawns and explained why keeping prawns frozen is the best way to preserve freshness and quality.
Our prawns are already peeled and cooked so they're very easy to incorporate into your dishes. If a recipe calls for raw prawns, you can still use cooked prawns and adapt cooking time so that they're just heated through but not overcooked.
Here are 3 recipes using cooked prawns that we think would be great to try. They're very easy and can be on your table in next to no time!
Prawn Bruschetta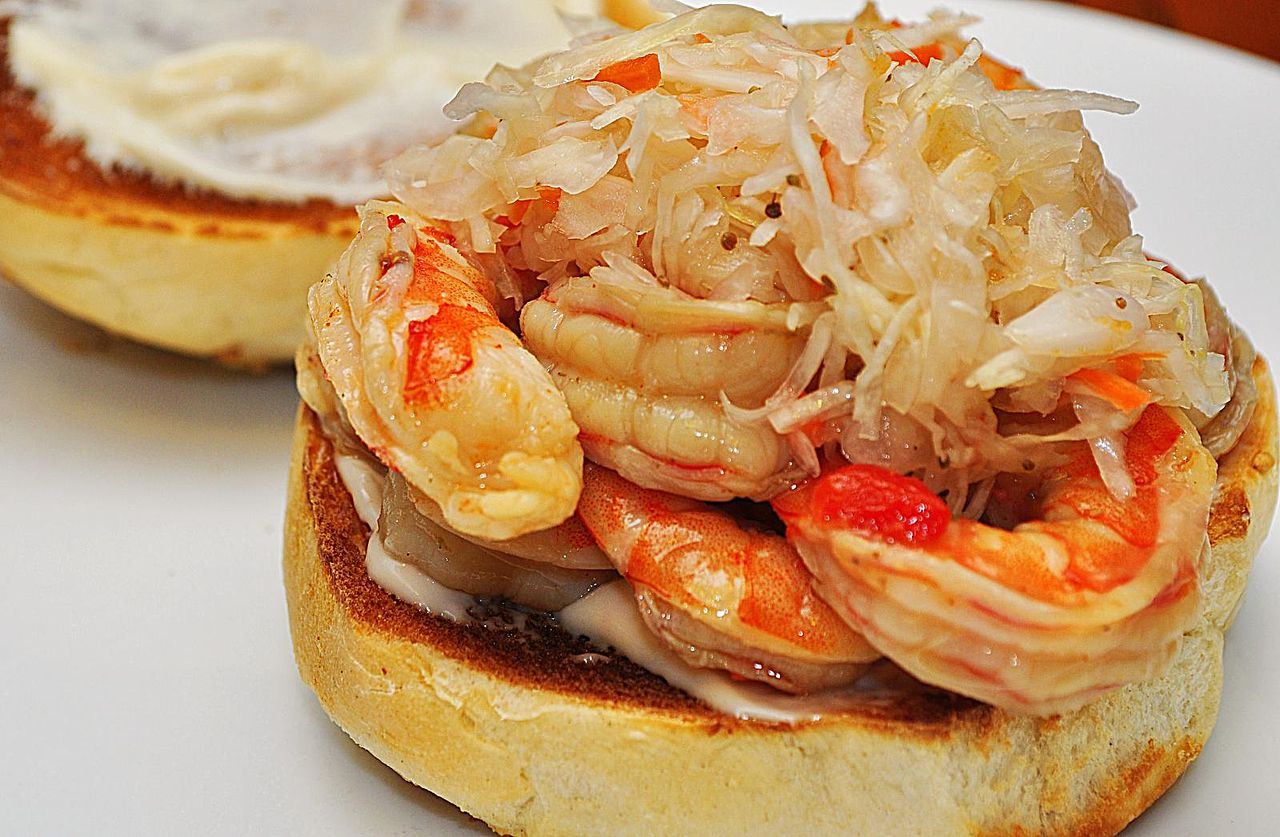 Prawn Bruschetta Recipe
Prep time:
Cook time:
Total time:
Bruschetta can be a great a quick snack or light lunch, served with a side salad of your choice or something more substantial if you're hungry. They can be topped with virtually anything but we like the association of prawns and lemony fennel.
Ingredients
1 fennel bulb, thinly sliced through the root, green fronds reserved
1 heaped tbsp roughly chopped dill
Zest and juice of ½ lemon, plus wedges, to serve
1 tbsp olive oil
4 small slices rustic wholemeal bread, or two large cut in half
1 garlic clove, halved
140g cooked prawns
Handful rocket
Instructions
Bring a pan of water to the boil then add the fennel slices for 2-3 mins until just tender. Drain well and toss with reserved fennel fronds, dill, lemon zest and juice, 2 tsp olive oil and seasoning.
Brush the slices of bread with remaining oil. Place in a hot griddle pan (or under a grill) and toast on both sides until lightly charred.
Rub one side of each slice of bread with the garlic, then divide the fennel salad between them. Top with the prawns, then the rocket and serve.
Prawn Jalfrezi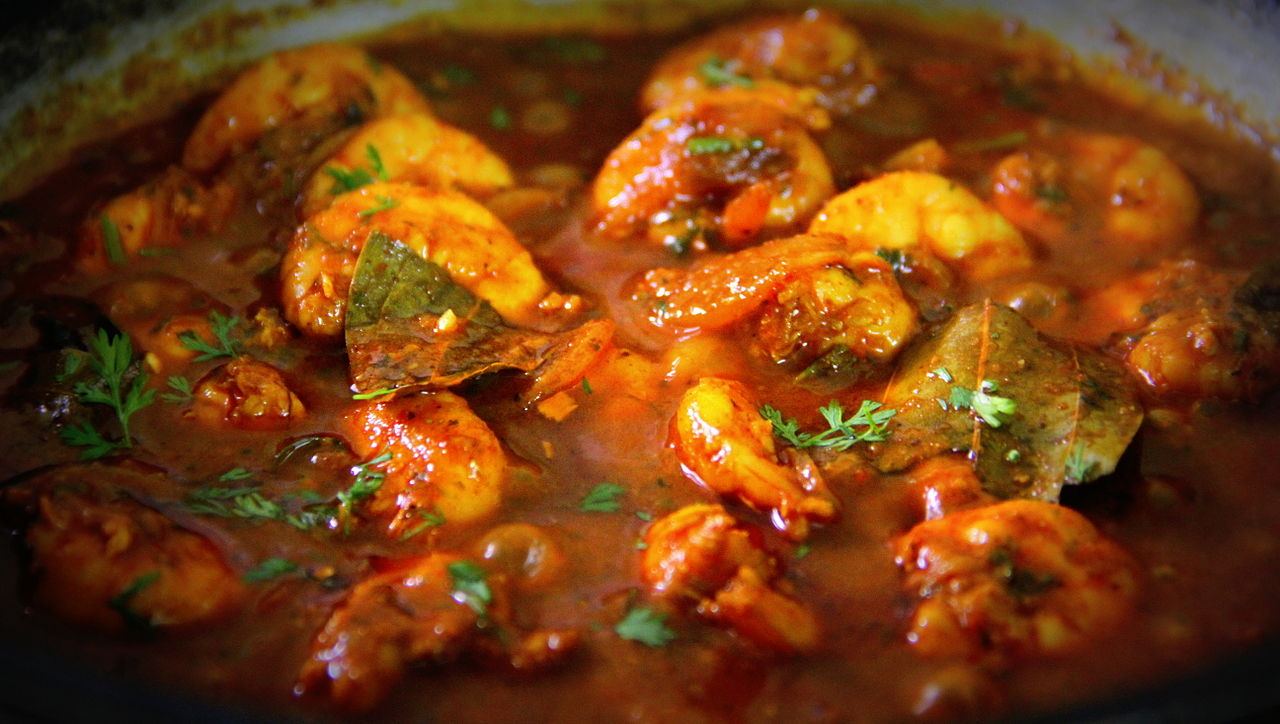 Prawn Jalfrezi
Prep time:
Cook time:
Total time:
This recipe uses many spices which makes the dish very flavourful – just make sure to adapt the spiciness to your liking by increasing or reducing the amount of chilli used.
Ingredients
2 tsp rapeseed oil
2 medium onions, chopped
Thumb-sized piece ginger, finely chopped
2 garlic cloves, chopped
1 tsp ground coriander
½ tsp ground turmeric
½ tsp ground cumin
¼ tsp chilli flakes (or less if you don't like it too spicy)
400g can chopped tomato
A squeeze of clear honey
1 large green pepper, halved, deseeded and chopped
A small bunch coriander, stalks and leaves separated, chopped
140g large cooked peeled tiger prawns
250g pouch cooked brown rice
Minty yogurt or chutney, to serve (optional)
Instructions
Heat the oil in a non-stick pan and fry the onions, ginger and garlic for 8-10 mins, stirring frequently, until softened and starting to colour.
Add the spices and chilli flakes, stir briefly, then pour in the tomatoes with half a can of water and the honey. Blitz everything in the pan with a hand blender until almost smooth (or use a food processor).
Stir in the pepper and coriander stalks, cover the pan and leave to simmer for 10 mins. (The mixture will be very thick and splutter a little, so stir frequently.)
Stir in the prawns and scatter over the coriander leaves. Heat the rice following pack instructions. Serve both with a minty yogurt or chutney, if you like.
Prawn Pasta Salad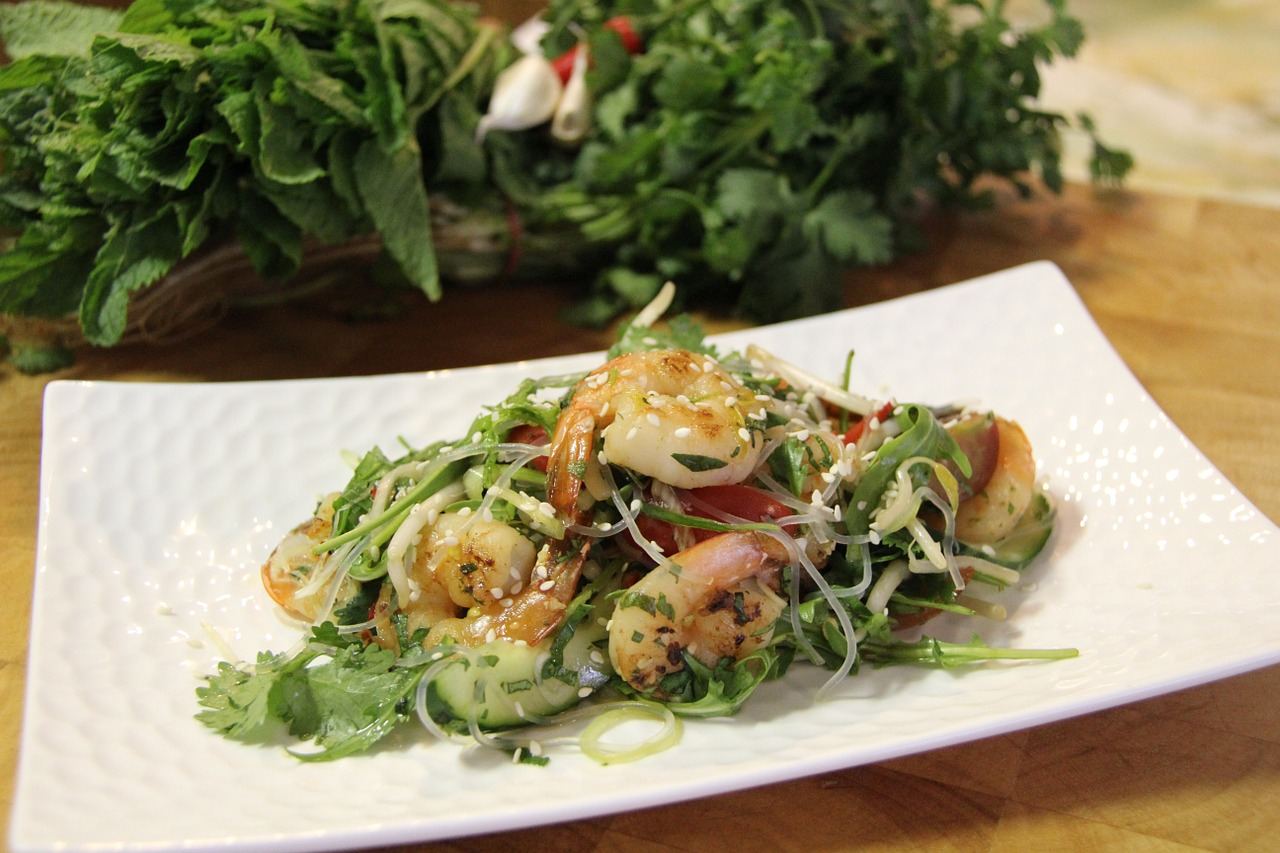 Prawn Pasta Salad
Prep time:
Cook time:
Total time:
Pasta salads can easily be made in larger batches so you can have some on the next day. Cooked prawns are a quick way to add some protein to your pasta salad so it keeps you fuller for longer. Enjoy hot or cold!
Ingredients
350g pasta
200g green beans halved
100g pesto
140g light crème fraîche
200g cooked king prawns
Zest 1 lemon, juice of ½
50g pine nuts
70g bag rocket
Instructions
Cook the pasta following pack instructions, adding the beans for the final 2 mins. Meanwhile, toast the pine nuts in a dry pan.
Drain the pasta, reserving a cup of water. Return the pasta and beans to the pan, and add the pesto, crème fraîche, prawns, lemon zest and juice, and pine nuts. Season well.
If the sauce is a little thick, add a splash of the pasta water. When you're ready to serve, scatter over the rocket. Eat hot, or leave to go cold, put in the fridge and eat as a pasta salad.