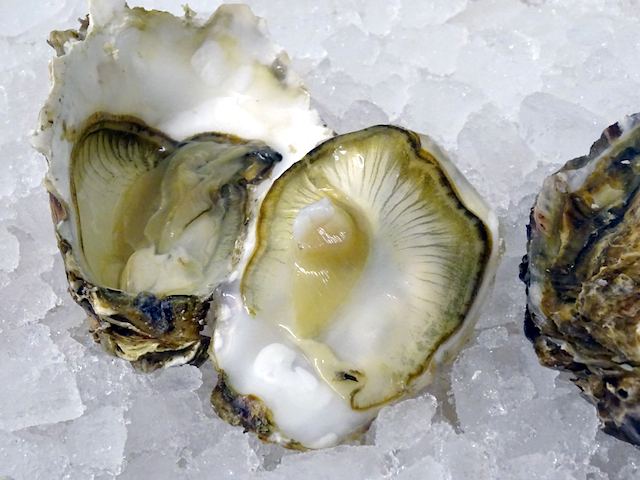 A while ago, we shared a delicious recipe for cooked oysters. However, if you are more traditional you can still enjoy your oysters raw! Here we share a short guide on how to prepare and eat your oysters, with a recipe for a mignonette sauce as a bonus.
Oysters should be tightly closed and heavy in hand. Rinse in cold water before preparing.
To open oysters, you will need an oyster knife, which is short, thick and quite blunt. Using a normal kitchen knife can be risky as the knife can break or slip and you might cut yourself. If you do not have an oyster knife, use a strong, short and blunt knife, or try using a screwdriver.
Use a folded or thick tea towel to hold oysters, this will enable you to get a better grip and protect your hand from any cuts. Always keep oysters curved-side down while storing, preparing and serving.
Hold the oyster on a chopping board, hinge facing towards you and poke the knife tip into the hole located in the hinge. Twist the knife and/or move from side to side to prise the hinge open.
Throw away the top shell and serve the oysters in the bottom shell. If there is some seawater in the oyster it is best to leave it there.
You can simply serve with a squeeze of lemon juice or with a mignonette sauce (find the recipe below).
Mignonette Sauce
Ingredients
1/2 cup minced shallots
1/4 cup white vinegar
1/4 cup clear, unseasoned rice vinegar
1/8 teaspoon of sugar
1/8 teaspoon of salt
1 1/4 teaspoon of finely crushed white peppercorns
Instructions
Peel and coarsely chop the shallots. Put them into a food processor and pulse a few times, until the shallots are finely minced, but not mush, with pieces no smaller than the tip of a match. You can also finely mince by hand if you wish.
Place the minced shallots and any liquid released from them in a glass bowl. Add the white vinegar, rice vinegar, and sugar and salt. Stir with a fork. Add the freshly crushed white pepper. Stir again with a fork.
Cover with plastic wrap and chill in the refrigerator for a minimum of four hours. For best results, store for at least 2 days before using. The mignonette flavour will be better blended the longer it sits. You may notice that the crushed white peppercorns may sink to the bottom of the bowl as the mignonette rests. If you see this, just give it a little stir.
The mignonette will last up to a month in the refrigerator.