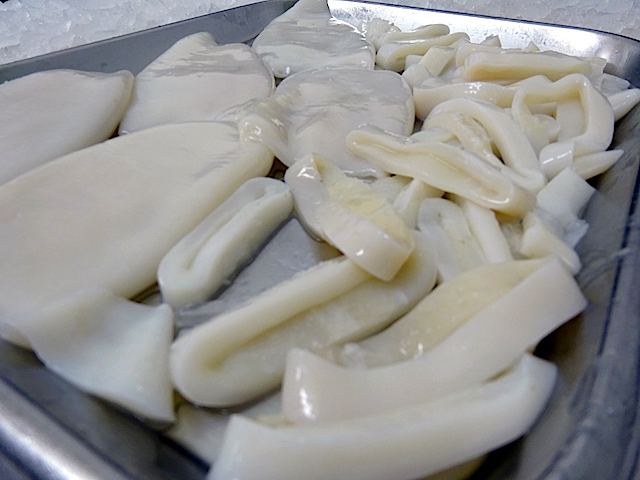 A few weeks back we shared a recipe by Nigella Lawson for a quick and easy squid recipe. The recipe called for prepared squid (frozen or fresh) and luckily for you we do stock fresh squid already prepared for your convenience.
But we like to think about the adventurous ones. Whether you simply want to try to improve your cooking skills, achieve a personal challenge or you had whole squid available, today we explain how to prepare squid from scratch.
After all, you never know when this technique might come in handy!
Pull out the tentacles from the main body. Cut just below the eyes and discard the innards, keeping only the tentacles. Discard the beak, situated in the middle of the small tentacles. Trim the 2 long tentacles to level with the rest.
Take the main body and pinch the two fins together. Slide your thumbs underneath and pull them away from the body. Discard the fins.
Remove the shell or "quill" from the main body and discard. To extract the innards, take the back of a knife and press it on the main body, pushing the innards toward the outside. Discard them as well.
Cut the squid open and discard any more innards that might be left at this stage.
Cut the squid into slices or pieces, depending on how you want to cook your squid. Your squid (main body and tentacles) is now ready to be cooked!
We hope you will find this guide useful. Check back as we will be posting several guides to help you prepare your fish and seafood like a chef! Get in touch if you have any questions or suggestions, we'd love to hear from you!