With the colder days and longer nights rapidly approaching, we thought we would share some hearty recipes that are sure to warm you up on a cold winter evening. First we have a fish casserole, perfect with winter vegetables. Second we have a curry, rich in flavour and spicy enough to wake up your taste buds.
Casserole-Baked Halibut with Leeks and Carrots
Author:
This dish is very simple and ingredient-driven. Make sure to use a quality olive oil for the best result! A simple casserole recipe that will feel very comforting without being a heavy meal.
Ingredients
5 tablespoons extra-virgin olive oil
3/4 pound baby carrots or large carrots cut into 4-by-1/2-inch sticks
6 medium leeks, white and light green parts only, sliced crosswise
Salt and freshly ground white pepper
7 thyme sprigs
2 bay leaves, preferably fresh
Instructions
Preheat the oven to 180°C. In a large, deep, ovenproof skillet, heat 3 tablespoons of the olive oil. Add the carrots and cook over moderately high heat, stirring, until lightly golden, about 3 minutes. Add 1/2 cup of water, cover and cook over moderate heat until the carrots are crisp-tender, about 5 minutes.
Add the leeks and another 1/2 cup of water, then cover and cook, stirring occasionally, until the leeks begin to soften, about 5 minutes. Season the carrots and leeks with salt and white pepper and add the thyme and bay leaves to the skillet.
Season the fish with salt and white pepper and arrange on top of the vegetables. Drizzle the fish with the remaining 2 tablespoons of oil. Cover the fish with parchment paper and close the skillet with a heavy lid.
Transfer the skillet to the oven and bake the fish for 15 minutes, or until just cooked through.
Discard the herbs. Transfer the fish to plates, spoon the vegetables and juices alongside and serve right away.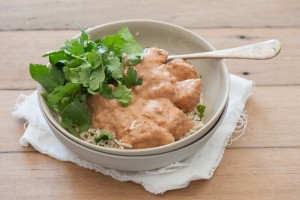 Creamy Indian-Spiced Halibut Curry
Author:
You can make this recipe the chef way, by making your own blend of spices including cloves, mace and green and black cardamom. If easier, simply use garam masala to give the dish its deep and rich flavour.
Ingredients
2 tablespoons canola oil
1 onion, minced
2 tablespoons finely chopped fresh ginger
4 garlic cloves, minced
1 teaspoon cayenne pepper
1 teaspoon turmeric
1 teaspoon ground coriander
1 cup plain whole-milk yogurt
1 cup heavy cream
1 tablespoon garam masala
Pinch of saffron threads, crumbled
Salt
900g skinless halibut fillets, cut into 4-inch pieces
Basmati rice and warm naan, for serving
Instructions
In large, deep skillet, heat the oil. Add the onion, ginger and garlic and cook over moderate heat, stirring frequently, until lightly browned, about 6 minutes.
Add the cayenne, turmeric and coriander and cook for 1 minute, stirring.
Whisk in the yogurt, then add the cream, garam masala and saffron and bring to a boil. Reduce the heat and simmer the sauce until slightly thickened, about 10 minutes. Season with salt.
Add the halibut to the sauce and turn to coat. Cook over moderate heat, turning once, until the fish is cooked through, about 10 minutes. Serve with basmati rice and warm naan.
Let us know if you try these recipes and don't hesitate to share pictures of your creations with us! We love seeing how customers cook our fresh fish and seafood!