Who doesn't love fish and chips? It's an absolute classic and a popular takeaway choice! While it's not the healthier option for eating out, it doesn't mean you cannot enjoy this tasty treat once in a while! This healthier recipe is a lighter version of a traditional fish and chips, perfect for a tasty treat without the guilt!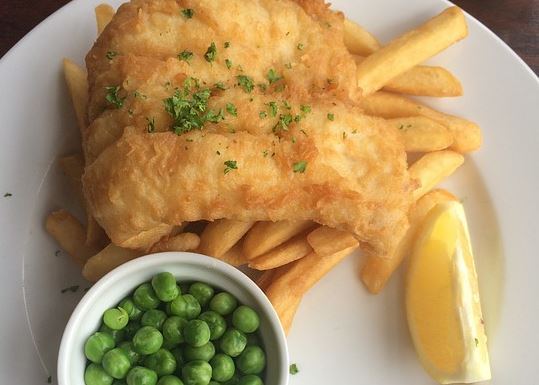 This recipe is perfect with cod but can easily be replaced with haddock, hake, halibut or pretty much any firm white fish that you like. Let us know if you try it, we'd love to see your creations!
Healthy Fish and Chips Recipe
Author:
Ingredients
400g potatoes, peeled and cut into chips
1 tsp vegetable oil
1 large egg, separated
½ lemon, zest only
handful fresh lemon thyme
2 x 150g skinless, boneless cod loin fillets
150g peas, fresh or frozen, to serve
1 lemon, cut into wedges, to serve
salt and freshly ground black pepper
Instructions
Preheat the oven to 220C/200C Fan/Gas 7. Line a baking tray with baking paper.
Boil the chips for 3-4 minutes, then drain well. Pour 1 teaspoon of oil into a baking tray and heat in the oven. Add the chips in a single layer and bake for 20 minutes.
Meanwhile, whisk the egg yolk, lemon zest, lemon thyme, salt and pepper together in a bowl. In a separate clean glass bowl, whisk the egg white until soft peaks form when the whisk is removed. Fold the yolk into the white.
Dip the fish into the egg mixture, then transfer to the lined baking tray and bake for 15-20 minutes, or until cooked and browned.
Boil the peas in water for 2-3 minutes. Serve the fish and chips with the peas and lemon wedges.