Halloween is just around the corner and you may have started planning for the big day already! If you have kids, Halloween can be a great day filled with fun and tasty treats! If the first thing that comes to mind may be sweets and chocolate, there are different ways you could celebrate! Why not turn your Halloween dinner into a fun and spooky experience for all the family? Here are a couple of recipes we think would be great!
Scary 'Maggots and Eyeballs' Pasta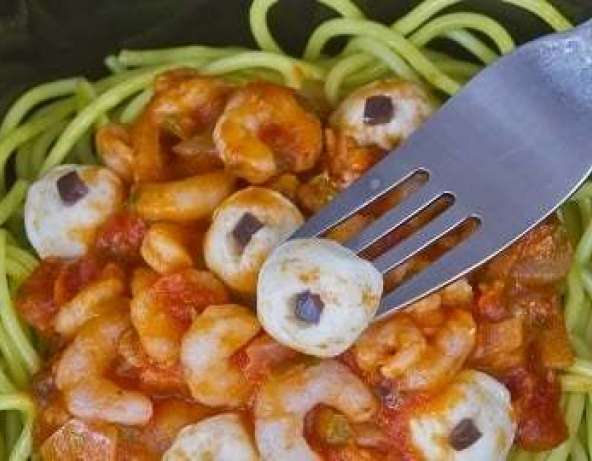 Scary 'Maggots and Eyeballs' Pasta
Author:
A tasty dish the whole family will love! A spooky trick to get kids to eat more seafood without them even realising it!
Ingredients
200g cooked prawns (defrosted if frozen)
200g spaghetti
1tbsp vegetable oil
1 onion, chopped
1 clove garlic, crushed
400g can chopped tomatoes
1 tbsp tomato puree
½ tsp mixed herbs
20 mini mozzarella balls
2 black olives, chopped
Instructions
Cook the spaghetti in boiling water according to the pack instructions.
Heat the oil in a separate pan over a medium heat. Add the onion and cook for about 5 minutes until the onion is softened. Add the garlic and cook for 1 minute. Then add the canned tomatoes, tomato puree and mixed herbs. Bring to the boil, turn down the heat and simmer gently for around 10 minutes until the sauce thickens.
Add the prawns to the tomato sauce and heat through for 3-4 minutes until piping hot.
Top each of the mozzarella balls with a small piece of black olive to make the 'eyeballs'!
When the spaghetti is cooked, drain and divide between 4 bowls. Pile the prawn and tomato mixture in the centre and top with the 'eyeballs'. Tuck in…if you dare!
Spooky Witch Fingers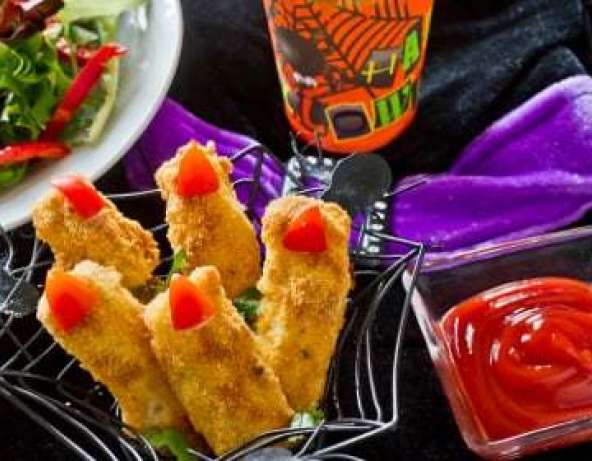 Spooky Witch Fingers
Author:
Fish fingers are often a kids' favourite! This recipe takes the classic to the next level with a fun presentation twist that should please even the fussiest eaters!
Instructions
Preheat the oven to 200ºC/fan 180ºC/gas mark 6. Lightly grease a large baking tray with oil.
Season the flour with a little salt and pepper and place in a wide, shallow bowl. Place the egg and breadcrumbs in separate bowls. Working in batches, coat the fish strips in the seasoned flour, then in the beaten egg and finally the breadcrumbs. Arrange the 'fish fingers' in a single layer on the baking tray. Drizzle with the 1 tbsp of oil and bake for about 10 minutes, turning over halfway until the fish is firm and cooked through.
Serve immediately, topped with a piece of tomato skin at the end of each finger to make a nail, and served with the tomato ketchup and the lettuce.
Tip: As an alternative to ketchup, try homemade tomato sauce or salsa. This goes well with oven-baked wedges or mashed potatoes and baked beans or peas.