When it comes to having a romantic meal, a lot of people choose to go to the restaurant. But on days such as Valentine's Day, restaurants can be crowded and often offer a specific and more limited menu.
Cooking a homemade dinner is usually cheaper and it's a great way to treat your loved one. It's a fact: everything tastes better when it's made with love!
Here is an idea of a menu you could cook!
Starter: Seared Scallops with Serrano Ham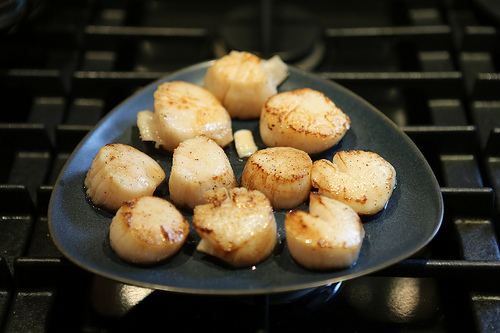 Seared Scallops & Serrano Ham
Author:
A light starter that packs a punch! If you cannot find Serrano ham, use any other similar cured ham. A simple but delicious dish.
Ingredients
4 thin slices of serrano ham or similar cured ham
Leaves from 0.5 frisée lettuce heart and a handful of other bitter salad leaves
25g chilled unsalted butter
6 shucked scallops
Salt and freshly ground black pepper
1.5 tbsp sherry vinegar
0.5 tbsp chopped parsley
Instructions
Arrange the ham and a pile of the salad leaves on 4 plates. Generously rub the base of a large non-stick frying pan with the block of butter and cut the remainder into small pieces.
Set the pan over a high heat and, as soon as the butter starts to smoke, add the scallops and sear for 2 minutes on each side, seasoning them with a little salt and pepper as they cook. Arrange the scallops on top of the ham.
For the dressing, remove the pan from the heat, add the sherry vinegar and stir to scrape up any residue from the bottom of the pan. Return the pan to the heat, add a tablespoon of water and whisk in the butter, a few pieces at a time, then add the parsley and season with a little salt and pepper. Spoon the dressing over the leaves and serve.
Main: Pan-Seared Cod in White Wine, Tomato & Basil Sauce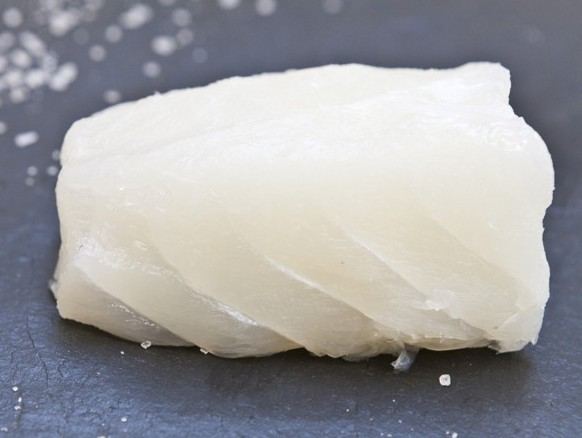 Pan-Seared Cod in White Wine, Tomato & Basil Sauce
Author:
This recipe only takes about 40 minutes from start to finish. It's a beautiful way to prepare cod (or any other white fish of your preference such as
haddock
,
lemon sole
,
seabass
or
sea bream
) and the rich tomato sauce makes it a truly indulgent dish!
Ingredients
For the White Wine Tomato Basil Sauce:
1 tablespoons olive oil
1/4 teaspoon crushed red pepper flakes
1 large cloves (or 2 smaller cloves) garlic, finely minced
1/2 pint cherry tomatoes, sliced in half
1/8 cup dry white wine
1/4 cup fresh basil, finely chopped
1 tablespoons fresh lemon juice
1/4 teaspoon fresh lemon zest
1/4 teaspoon salt (more to taste)
1/8 teaspoon fresh ground black pepper (more to taste)
For the Cod:
1 tablespoons olive oil
500g fresh cod or 2 fillets
Salt and pepper
Instructions
Preheat oven to 190 degrees (C).
For the White Wine Tomato Basil Sauce:
Heat oil in a large non-stick pan over medium heat. Add crushed red pepper flakes and garlic and saute for 1 minute, or until garlic is fragrant. Add the cherry tomatoes and cook, stirring occasionally, until they're soft and blistering, but still hold their shape, about 12 minutes. Add in the white wine, stir, and allow the mixture to come to a light simmer. Stir in the basil, lemon juice, lemon zest, salt, and pepper and cook for 2 minutes. Transfer the sauce into a bowl and set aside until needed.
For the Cod:
Heat oil in a large non-stick pan over medium heat. Season both sides of cod with salt and pepper. Place cod in the oil and cook until golden brown, about 5 minutes. Carefully flip the cod over and place the pan in the oven to continue cooking for another 5 minutes, or until it's cooked through.
Pour the white wine tomato basil sauce over the cod and serve at once.
Dessert:
Here are a couple of options we think would be great to finish off the meal.
Panna Cotta with Berry Sauce
If you prefer something light and fruity to end your meal, this recipe is sure to please you! You can adapt the berry sauce with any berries of your choice.
Find the recipe on Natasha's Kitchen
Molten Chocolate Cake
If you're a chocolate lover, you will LOVE this recipe! A rich and indulgent cake that is a great way to finish a romantic meal.
Find the recipe on Two Tarts