Soups and stews are a tasty and healthy way of warming up on a chilly day. It's also easy to freeze, which means you can easily cook ahead of freeze portions for a later meal. Here are 3 fish & seafood soup recipes we love.
Mussel Soup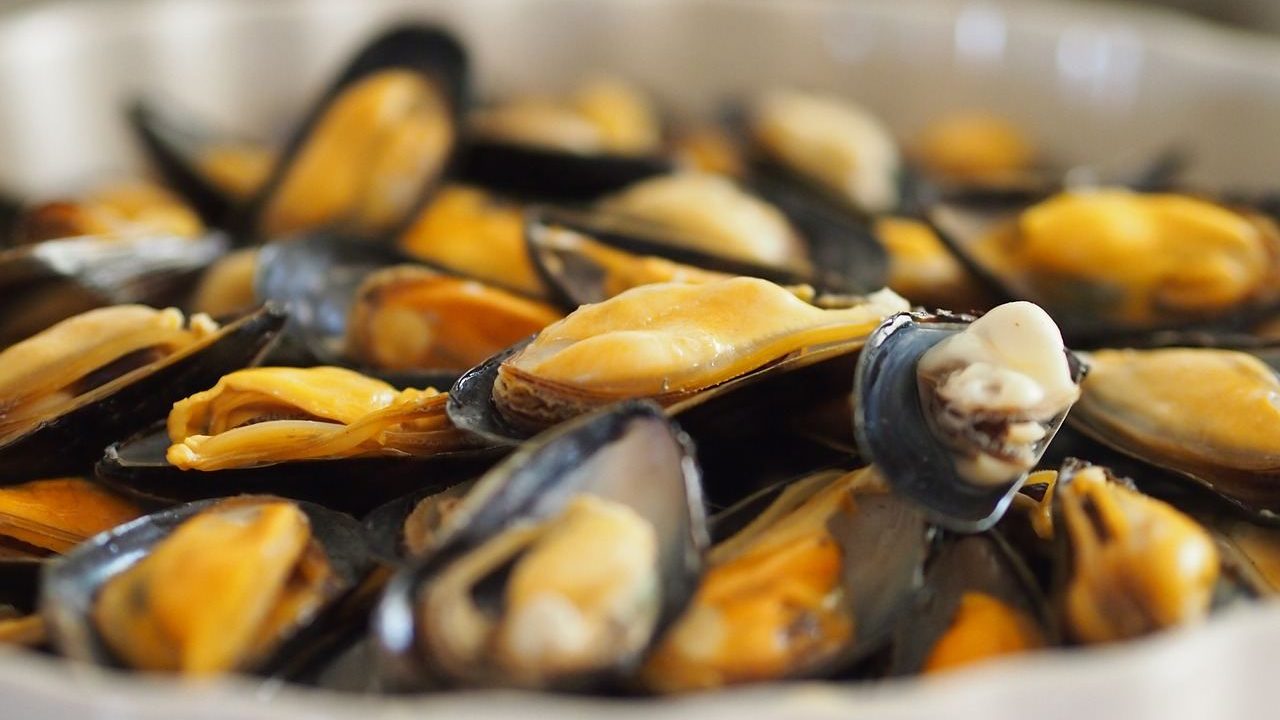 Mussel Soup
Author:
This warming soup has a bit of a Provencal feeling and will get you dreaming of Summer on even the coldest day! If you're not a big fan of mussels, you could also use firm white fish such
cod
of
halibut
. The soup will be different but still very tasty!
Ingredients
5 tbsp olive oil
1 onion, chopped
1 clove garlic, minced
1 fennel bulb, chopped
1 rib celery, chopped
1 bay leaf
Grated zest of 1/2 orange
1/4 tsp turmeric
3 plum tomatoes, chopped
1 cup dry white wine
8 1/2-inch slices baguette
1.350kg mussels, scrubbed and debearded
3 cups water
1 tsp salt
1/4 tsp fresh-ground black pepper
3/4 cup heavy cream
110g prosciutto or other flavourful ham, chopped
Instructions
In a large pot, heat 3 tablespoons of the oil over moderately low heat. Add the onion, garlic, fennel, celery, bay leaf, orange zest, and turmeric. Cook, covered, stirring occasionally, until the vegetables are soft, about 15 minutes. Stir in the tomatoes and wine and simmer for 5 minutes.
Meanwhile, heat the broiler. Put the bread slices on a baking sheet and brush both sides with the remaining 2 tablespoons of oil. Broil the bread, turning once, until golden brown, about 4 minutes in all.
Discard any mussels that are broken or do not clamp shut when tapped. Add the water, salt, pepper, and mussels to the pot. Cover and bring to a boil. Cook, shaking the pot occasionally, just until the mussels open, 3 to 5 minutes.
As the mussels open, remove them from the pot with a slotted spoon. When the mussels are cool enough to handle, remove them from their shells. Remove the bay leaf. Stir the cream into the soup and bring just to a simmer. Stir in the mussels and the prosciutto and serve topped with the toasted slices of baguette.
Crab & Sweetcorn Soup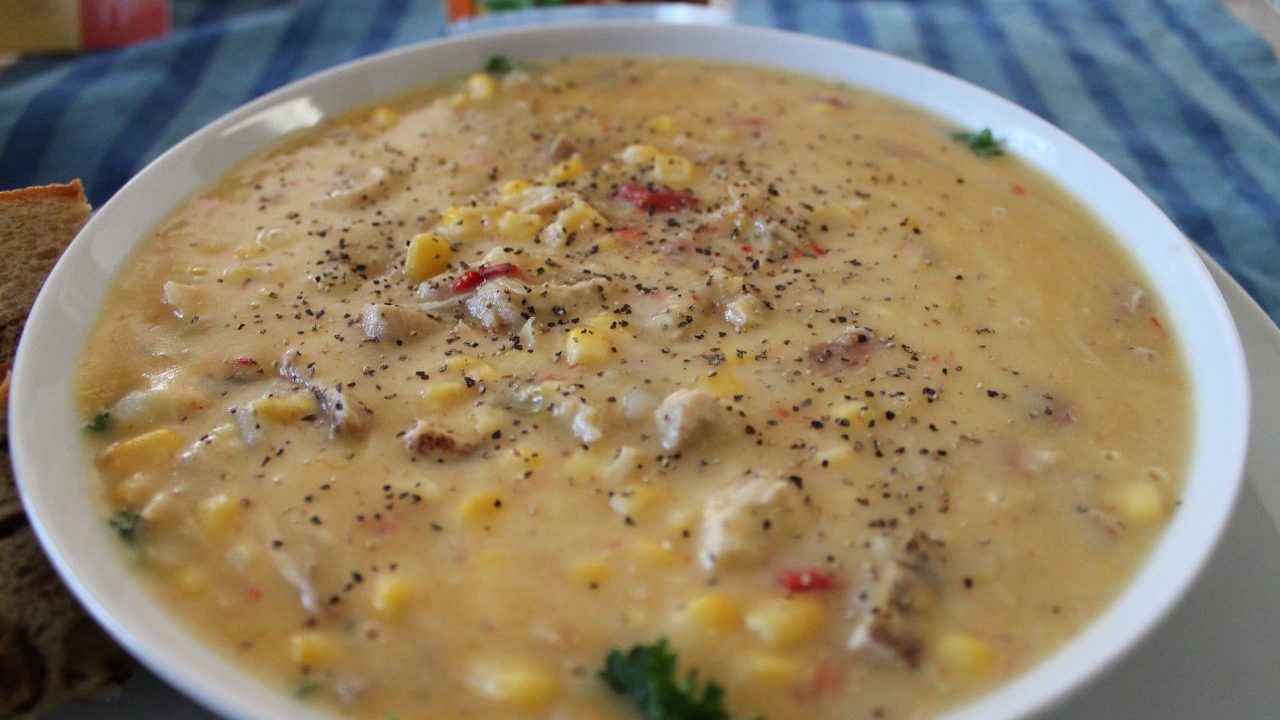 Crab & Sweetcorn Soup
Author:
A simple Chinese dish that is even popular with kids thanks to its naturally sweet taste!
Ingredients
1.2l chicken stock
2 fresh corn cobs
225g fresh white crabmeat
5 tsp cornflour
1 tsp very finely chopped fresh root ginger
2 spring onions, cut into 1-inch pieces and finely shredded lengthways
1 tbsp light soy sauce
1 tbsp Chinese rice wine or dry sherry
1 egg white, lightly beaten
Instructions
Bring the chicken stock to the boil in a pan. Meanwhile, stand the corn cobs up on a board and slice away the kernels with a large sharp knife. Add the corn to the stock and simmer for 5 minutes.
Check over the crabmeat for any little pieces of shell, keeping the meat in the largest pieces possible. Mix the cornflour to a smooth paste with a little cold water, stir it into the soup and simmer for 2 minutes.
Stir in the crabmeat, ginger, spring onions, soy sauce, rice wine or sherry, 1 teaspoon of salt and some pepper to taste. Simmer for 1 minute.
Now give the soup a good stir, remove the spoon and slowly trickle in the beaten egg white so that it forms long, thin strands in the soup. Simmer for about 30 seconds and then serve immediately.
Cod & Chorizo Stew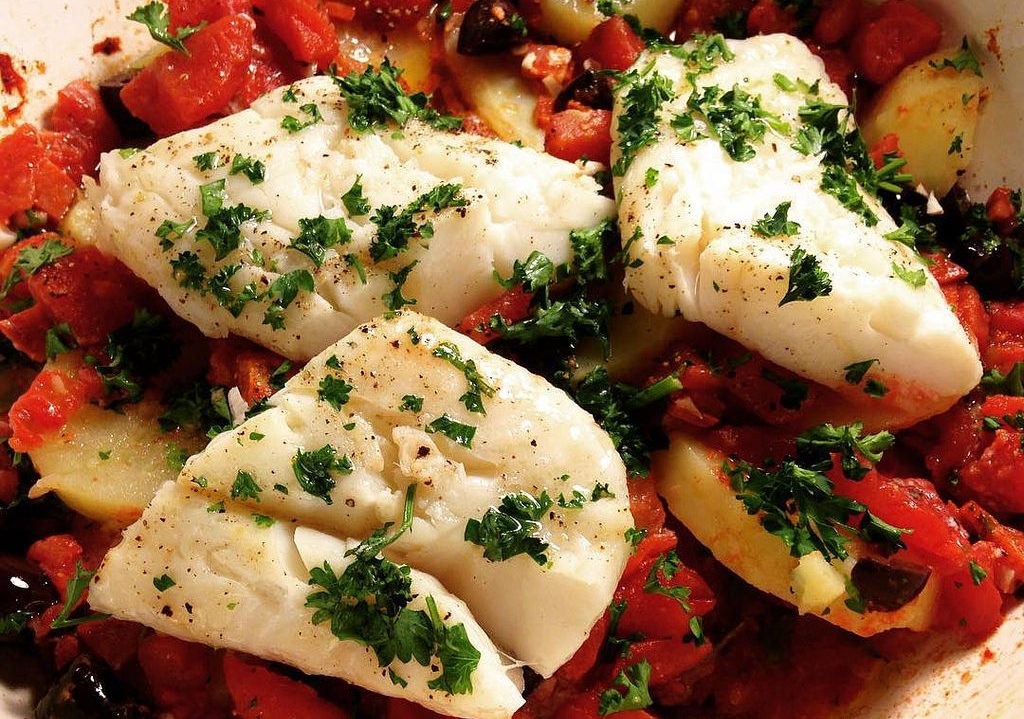 Cod & Chorizo Stew
Author:
Prep time:
Cook time:
Total time:
Cod
and chorizo are a match made in heaven, but you could also use a firm white fish such as
halibut
. This delicious stew is easy to freeze so you could make a big batch so you always have a tasty meal on hand when you're too busy to cook.
Ingredients
1 tbsp olive oil
120g sliced cooking chorizo
1 large onion
1 tsp hot smoked paprika
A pinch of chilli flakes
75ml white wine
400g can chopped tomatoes
100g sliced roasted peppers
200g tinned chickpeas (drained and rinsed)
450g skinless cod fillets
A handful of chopped fresh flatleaf parsley
Instructions
Heat the olive oil in a frying pan, add the chorizo and fry until just starting to crisp. Remove with a slotted spoon to a bowl and set aside.
Finely the onion then, in the same pan, soften it for 8 minutes over a low heat. Stir in the paprika and the chilli flakes and cook for 2 minutes more. Add the white wine, chopped tomatoes, roasted peppers and chickpeas. Season well, mix and bring to a simmer.
Chop the cod fillet into large chunks and add to the pan along with the crisp chorizo. Bubble gently for 3 minutes or until the cod is just cooked through. Taste and adjust the seasoning, if need be. Sprinkle over a handful of chopped fresh flatleaf parsley and serve with creamy mash or garlic bread.