These snack or appetizer recipes are perfect for a casual get-together with family and friends, whether you're having a relaxing day or you are supporting your favourite team! These are super easy to make and only require a few ingredients!
Mini Fish Burgers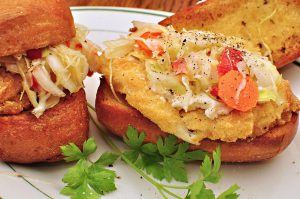 Mini Fish Burgers
Author:
These mini fish burgers are a fun way to eat fish and are very easy to serve as a snack or appetizer. Very kid-friendly, all the family is sure to enjoy this recipe!
Instructions
In a small pot, boil the potato in salted water until soft. Drain off the water, add the peas and while stirring, heat them for a further 2 minutes in the pot.
Mash the potato and the peas together and season it with salt.
Mix the grated parmesan with the breadcrumbs.
Cut the fish fillets into goujons and coat them in flour.
Dip the fish pieces in the egg mixture and then in the crumbs.
Fry the fish on a medium heat in cooking oil until golden and cooked through.
Cut the rolls in half and make the mini burgers with mayonnaise, the fish pieces and mushy peas on top. You can add anything you like to the burgers such as salad and vegetables.
Grilled Scallops Wrapped in Prosciutto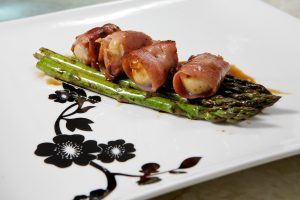 Grilled Scallops & Prosciutto
Author:
This recipe only has a few ingredients and is very easy to make! An elegant appetizer that will satisfy even the most delicate palates.
Ingredients
450g paper-thin slices prosciutto
900g medium scallops (about 40)
Extra-virgin olive oil, for drizzling
2 lemons, halved, plus wedges for garnish
Freshly ground pepper
Instructions
Preheat grill to high. (If using a charcoal grill, coals are ready when you can hold your hand 5 inches above grill for 2 seconds.)
Halve 1 slice prosciutto lengthwise. Fold in half lengthwise, and wrap around sides of 1 scallop, overlapping prosciutto ends. Repeat with remaining prosciutto and scallops. Thread several scallops on each skewer.
Drizzle scallops lightly with oil, squeeze lemons over skewers, and season with pepper. Grill scallops, turning once, until just opaque, about 3 minutes per side. Serve with lemon.
Tuna Spring Rolls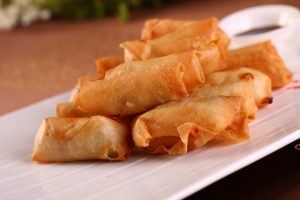 Tuna Spring Rolls
Author:
These crispy spring rolls have a healthy twist, since tuna is full of omega-3 and low in fat. Serve with chilli sauce for a tasty snack.
Ingredients
100g Bean sprouts
1 medium Carrot, grated
2 Tbsp Coriander, chopped finely
8 Spring roll wrappers
1 Cup Oil
185g Tuna chunks
3 Tbsp Oyster sauce
3 Tbsp Chilli garlic sauce
3 Tbsp Chilli sauce
Instructions
Combine the tuna, the oyster sauce, the chili garlic sauce, the bean sprouts, the carrot and the coriander in a bowl using a fork.
Next, lay out spring roll wrappers in a plate and use the fork to place some tuna mixture into a corner of the spring roll.
Roll up and fold in the ends. Wet the edges with a little bit of water to seal the spring roll completely.
Keep aside on a grease proof paper to avoid the raw rolls from sticking.
Heat up oil in a large wok or frying pan on medium-high heat. Once hot, deep fry the spring rolls until golden brown colour.
Remove the spring rolls from the oil and place them onto kitchen paper to drain extra oil.
Arrange the spring rolls on a bed of shredded lettuce or cabbage and place a mini bowl of chili sauce for dipping. Serve immediately.