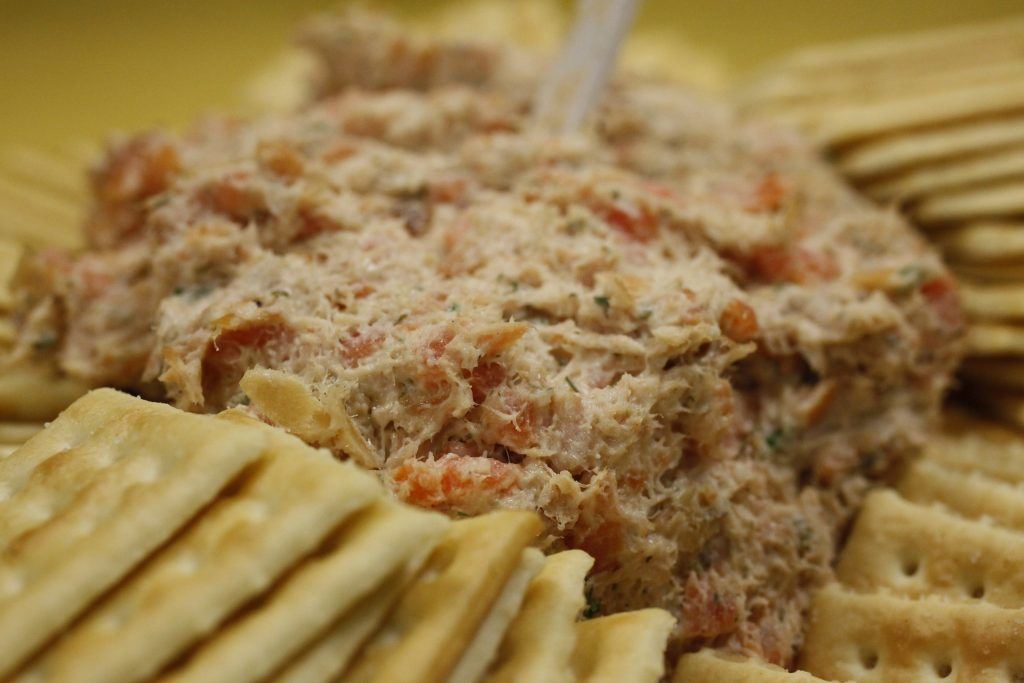 Dips can be enjoyed all year round. Whether you're having a little get-together or you want something quick to make, there is always a good reason to make fish dips! You can serve them with pretty much anything you want: crackers, toasted bread or brioche, bagels…

This week we're kicking off this two-part series with recipes using smoked haddock, smoked salmon and fresh crab!
Smoked haddock dip
Author:
The original recipes used smoked bluefin. Smoked haddock is a lot easier to find and the dip tastes just as good!
Ingredients
8 ounces cream cheese, softened
1 tablespoon Worcestershire sauce
1 tablespoon fresh lemon juice
1 tablespoon chopped parsley
1/2 medium red onion, minced
4 to 6 dashes of hot sauce
1/4 cup minced chives
1/2 pound skinless, boneless smoked haddock, flaked
Toasts or crackers, for serving
Instructions
In a bowl, blend the cream cheese with the Worcestershire sauce, lemon juice, parsley, onion, hot sauce and half of the chives.
Fold the smoked haddock into the cream cheese mixture.
Sprinkle the remaining chives on top and serve with toasts.
Baked crab dip
Author:
A dip served hot with a crust of panko on the top. It is as quick to disappear as it is to bake! For a truly indulgent dip, add some
lobster
meat!
Ingredients
6 oz/170 g fresh crabmeat, well drained
1/2 cup/75 g diced red pepper
1/2 cup/25 g finely chopped fresh flat-leaf parsley
3 tbsp snipped fresh chives
1/2 cup/120 ml reduced-fat mayonnaise
4 oz/115 g whipped cream cheese
1 1/2 tbsp fresh lemon juice
1/2 tsp hot sauce, such as Tabasco
1/4 cup/20 g panko (Japanese bread crumbs)
1/2 tsp grated lemon zest
Instructions
Place the crabmeat in a medium bowl and flake with your fingers. Stir in the bell pepper/capsicum, parsley, and chives. Using a rubber spatula, gently stir in the mayonnaise, cream cheese, lemon juice, and hot sauce. Transfer to a 1-quart shallow baking dish. In a small bowl, combine the panko and lemon zest.
Position a rack in the upper third of the oven and preheat the oven to 425 degrees Fahrenheit. Just before baking, sprinkle the panko mixture on top and bake until the panko is toasty brown and the dip is bubbling at the edges, about 12 minutes. Serve hot.
Smoked salmon dip
When it comes to fish dips, salmon has to be somewhere on the list. This super creamy dip uses smoked salmon for a maximum of flavour.
Ingredients
2/3 cup crème fraîche
2/3 cup plain Greek-style yogurt
4 teaspoons Prepared Horseradish, or store-bought (white)
1 pound thinly sliced smoked salmon
2 tablespoons thinly sliced chives plus more
Kosher salt and freshly ground black pepper
1 lemon
Pumpernickel toasts, flatbread crisps, or bagel chips
Instructions
Whisk first 3 ingredients in a small bowl until well blended.
Place salmon in a food processor; pulse just a few seconds at a time until salmon is reduced to pea-sized pieces. Add salmon and 2 tablespoons chives to crème fraîche mixture; fold to incorporate. Season to taste with salt and pepper.

Using a vegetable peeler, remove zest from lemon (yellow part only). Cut lengthwise into thin strips. Garnish dip with lemon zest and 2-inch long pieces of fresh chives. Serve with pumpernickel toasts.