Whether you love fish and want to place it at the centre of your Christmas dinner or just want something a bit different from Turkey this Christmas, here's just the recipe for you! This 2-fish roast is easy to make and has a real wow factor!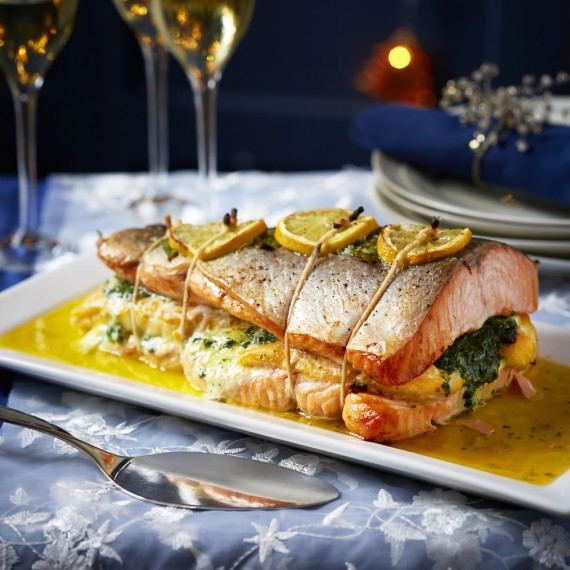 2-Fish Roast Recipe
Author:
Prep time:
Cook time:
Total time:
Ingredients
300g fillet smoked haddock, skinned
125g softened butter
5tbsp chopped flat-leaf parsley
2 x 500g tail-end fillets of salmon, skin on
1 lemon, sliced
3 large bay leaves
You will also need butcher's string.
Instructions
Lightly poach the smoked haddock in simmering water for just 5 mins. Remove to kitchen paper to drain off excess water.
Mix together the butter and parsley with plenty of seasoning. Cut 5-6 pieces of string around 35cm long – you can trim them later. Lay them out on a board then put one fillet of salmon, skin side down, on top. Jiggle the string so each piece is evenly spaced along the fish.
Dot half the parsley butter along the centre of the salmon. Carefully put the haddock on top. Dot the remaining parsley butter along the centre then put the other salmon fillet on top, skin side up.
Lay the lemon slices and bay leaves along the top then tie the string. You can now leave the fish covered in the fridge (overnight is fine as long as your salmon is spankingly fresh).
Heat the oven to 200C. Put the fish into a shallow ovenproof dish and roast for 45 mins. Serve with the butter sauce. To carve, snip off the string and slice through with a very sharp knife.
Think you'll be sticking to turkey this Christmas? Try this delicious oyster stuffing recipe!