Chicken is a great meat to enjoy alongside your favourite fish and seafood. It's a lean source of protein and is so versatile you can use it in a wide range of recipes. We've selected 3 chicken stir fry recipes that would be perfect for weeknight dinners or when you fancy a simple but delicious meal. You can use chicken breasts that you dice yourself or use already diced chicken.
Easy Chicken Stir Fry
A great recipe for a healthy meal that is super easy to make!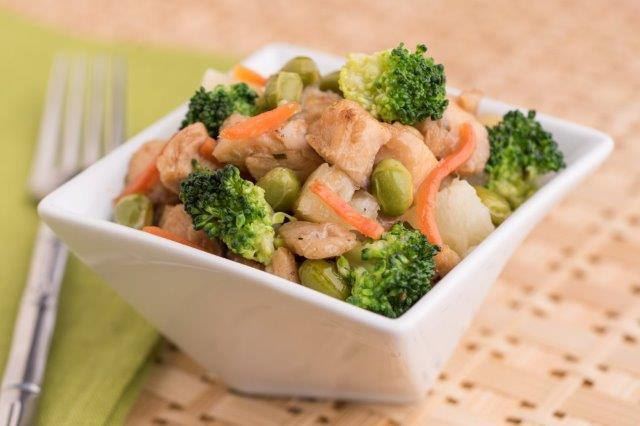 Easy Chicken Stir Fry
Author:
Ingredients
3 Spring Onions/Scallions
½ Head Broccoli
1 Red Pepper
1 Thumb Ginger
2 Chicken Fillets (or 500g Diced Chicken)
1 Packet Sugarsnap Peas
1 Handful Chopped Chillis
1 Handful Chopped Garlic
Instructions
Slice your chicken fillets into even strips. Slice the peppers and broccoli and finely chop the garlic, ginger, scallions and chillis.
Oil a wok or large frying pan and heat slightly. Throw in your garlic and chilli and toss in the oil until hot. Put in the chicken and stir-fry until nearly cooked all the way through. Add the ginger and scallions, then the rest of the vegetables. Heat all the way through, then add a generous amount of soy sauce.
Serve with rice or noodles or just on its own!
 Chicken Noodles Stir Fry
A delicious and filling stir-fry with chicken and noodles. To save time, use ready-diced chicken!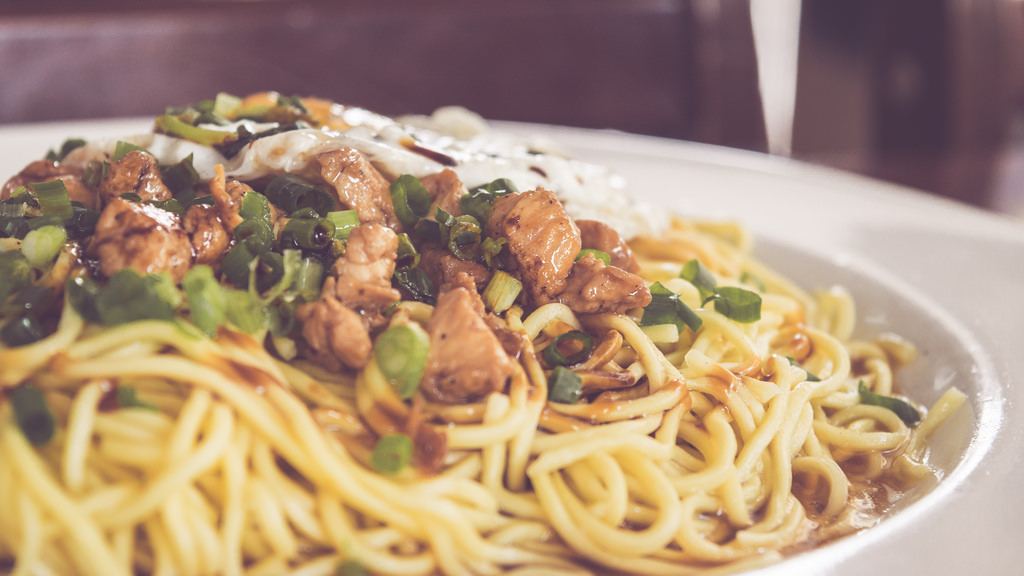 Chicken Noodles Stir Fry
Author:
Ingredients
½ a bunch of fresh coriander
3 cloves of garlic
5 cm piece of ginger
1 bunch of spring onions
1 fresh red chilli
1 lime
2 carrots
1 head of broccoli
2 skinless chicken breasts
250 g medium egg noodles
50 g unsalted cashew nuts
vegetable oil
freshly ground black pepper
1-2 tablespoons low-salt soy sauce
1 tablespoon fish sauce
Instructions
Pick the coriander leaves and finely slice the stalks, then keep aside for later. Peel and finely slice the garlic, then peel and matchstick the ginger.
Trim and finely slice the spring onions, deseed and finely slice the chilli and cut the lime into wedges. Trim, peel and thinly slice the carrots at an angle.
Cut the broccoli into small florets, then finely shred the stalk, discarding any gnarly bits. Cut the chicken into 1cm strips.
Cook the noodles according to packet instructions, then drain and refresh under cold water. Drain again, toss in a little oil and put to one side. Lightly toast the cashew nuts in a non-stick frying pan until golden, then tip onto a plate to cool.
Heat 1 tablespoon of vegetable oil in a large frying pan or wok. Season the chicken with a pinch of pepper, then add to the pan and stir-fry for 2 to 3 minutes, or until golden. Add the coriander stalks, garlic and ginger and cook for a further minute.
Add the spring onions, carrots and broccoli and stir-fry for a further 2 minutes, then add the cooked noodles. Keep stir-frying until the noodles are warm and the chicken is cooked through. Stir through the soy and fish sauces, then remove from the heat.
Divide between bowls, sprinkle over the nuts, sliced chilli and the reserved coriander leaves, then serve with the lime wedges for squeezing over.
Sweet and Sour Chicken Stir Fry
This sweet and sour chicken recipe can quickly become a firm family favourite! Make sure you prepare and cut all the ingredients before heating your wok or frying pan.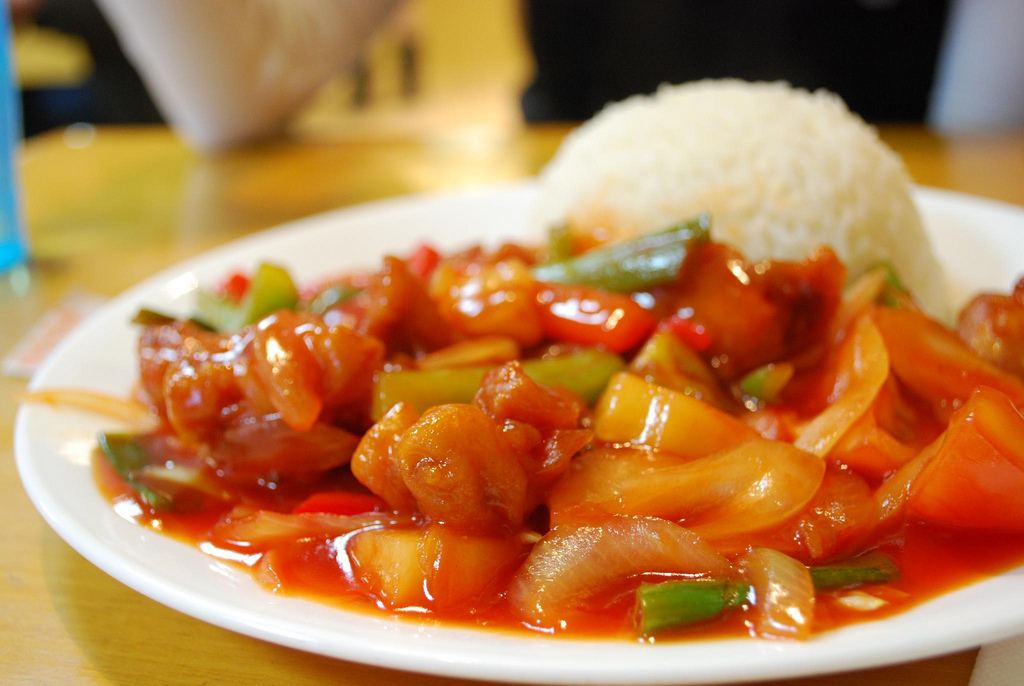 Sweet and Sour Chicken Stir Fry
Author:
Ingredients
2 tbsp vegetable oil
4 skinless, boneless chicken breasts, cut into 2.5cm/1in cubes
1 small red pepper, de-seeded and cut into 2.5cm/1in pieces
1 small green pepper, de-seeded and cut into 2.5cm/1in pieces
1 thumb-size piece of fresh ginger, peeled and finely chopped
6 garlic cloves, chopped
1x220g can water chestnuts, drained and sliced
1 bunch spring onions, cut into 2.5cm/1in pieces
1 small can sliced pineapple, drained and cut into chunks (optional)
ground white pepper
For the sauce
1 tbsp soft light brown sugar
2 tbsp rice vinegar
3 tbsp rice wine or dry sherry
2 tbsp dark soy sauce
175 ml chicken stock
2 tbsp tomato purée
2 tbsp cornflour mixed with 2 tbsp water
2 tbsp water
Instructions
Heat the oil in a wok or large frying pan. Add the chicken, peppers, ginger and garlic. Fry for 2-3 minutes, then add the water chestnuts, spring onions and pineapple, if using, and fry for about 30 seconds.
Add all the sauce ingredients and bring to the boil. Reduce the heat and simmer for about 6 minutes. Season with white pepper.