White fish is a lean source of protein and should be part of the recommended two portions of fish per week. The options to cook white fish are endless and you can choose any of your favourite fish such as haddock, cod, monkfish, halibut, seabass, sea bream or lemon sole!
Here we have selected three methods of cooking: baked, pan-fried and poached. All these recipes are easy to make and are perfect for weeknight dinners when you want something simple but still flavourful.
Roasted White Fish with Bacon, Asparagus & Lemon Mayonnaise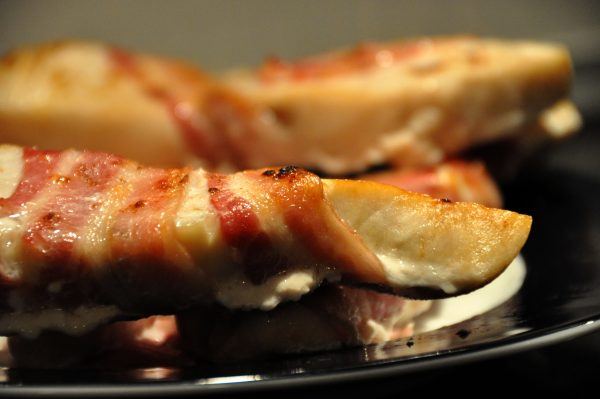 Roasted White Fish
Author:
The strong flavours of the bacon are well balanced with the delicate flavours of white fish. This dish can be ready in 30 minutes and is very easy to make! You can choose the type of fish and bacon you prefer, so don't hesitate to try different combinations.
Ingredients
2 sprigs of fresh rosemary, leaves picked and very finely chopped
2 lemons, zest and juice of
freshly ground black pepper
12 rashers thinly sliced, smoked streaky bacon or pancetta
olive oil
4 tablespoons mayonnaise
2 large bunches of asparagus, trimmed
Instructions
Preheat your oven to 200ºC/400ºF/gas 6. Season your beautiful fish fillets with the rosemary, finely grated lemon zest and pepper. Lay your rashers of bacon or pancetta on a board and one by one run the flat of a knife along them to thin them and widen them out. Lay 3 rashers together, slightly overlapping, put a fish fillet on top and wrap the rashers around it.
Lightly heat a large ovenproof frying pan, add a splash of olive oil and lay your fish in the pan. Fry for a minute, then place the pan in your preheated oven for 10 to 12 minutes, depending on the thickness of the fish, until the bacon is crisp and golden.
While the fish is cooking, you can make your simple lemon mayonnaise. Do this by mixing quality mayonnaise with the juice of half a lemon and pepper. You want to add enough lemon juice to make the flavour slightly too zingy. This is because, when you eat it with the asparagus and the fish, it will lessen slightly in intensity. And don't worry if the mayo looks a little thinner than usual when you've added the lemon juice – think of it as more delicate.
The asparagus is a great accompaniment because, like the fish, it also loves bacon. You can either boil or steam it; either <g class="gr_ gr_110 gr-alert gr_gramm gr_disable_anim_appear Punctuation only-ins replaceWithoutSep" id="110″ data-gr-id="110″>way</g> <g class="gr_ gr_111 gr-alert gr_spell gr_disable_anim_appear ContextualSpelling" id="111″ data-gr-id="111″>it's</g> light and a nice contrast to the meatiness of the fish. When cooked, toss it in the juices that come out of the fish. Simply serve the fish next to a nice pile of asparagus, drizzled with the lemon-spiked mayonnaise. And if you're feeling very hungry, serve with some steaming-hot new potatoes.
Pan-Fried White Fish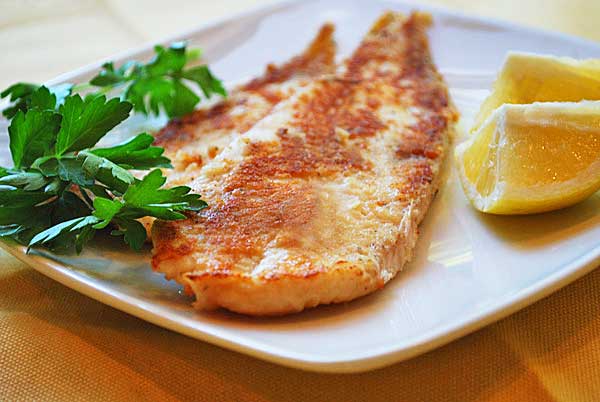 Pan-Fried White Fish
Author:
Pan-fried fish is probably the quickest way to cook fish! For this method, make sure you don't overcook your fish and serve with rice, potatoes or any vegetables to make a healthy and tasty dinner ready in no time!
Instructions
Preheat your largest, heaviest pan or skillet over medium-high heat. A heavier pan will distribute the heat more evenly than a thin one.
Whisk together the flour, salt and pepper, paprika, herb and lemon zest.
Pour the seasoned flour into a shallow dish large enough to hold 1 or 2 fish fillets. Depending on the size of the fillets, and your guests' inclination to share, cut the fish into individual portions or leave whole.
Dredge fillet pieces in the seasoned flour until they are evenly coated. Rest on a pan or plate but don't stack them on top of one another.
Pour a large splash of vegetable oil into the pan, enough to cover the pan's bottom in a thin film. Add the butter to the centre of the oil. The oil will protect the delicate butter from burning, and the butter will add flavour. When the butter begins to brown and sizzle, swirl it around the pan and quickly add the fish fillets. Turn up the heat, adjusting it as needed to keep the pan sizzling hot.
Cook the fish in batches so they will all brown evenly. Cook the first side of the fillets for a few minutes until they're golden brown and beautiful. Carefully flip them and continue with the other side. You may find it useful to add a bit more butter after you flip the fish over.
Continue until the fish cooks through. Add the lemon juice and swirl the pan. It will sizzle and form a quick sauce with the butter and coat each fillet. Serve immediately.
Simple Poached Fish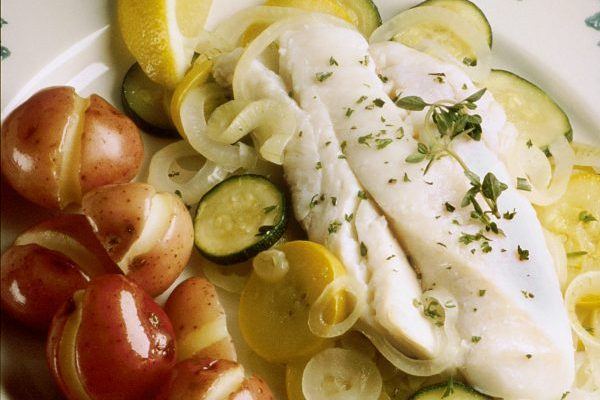 Simple Poached Fish
Author:
This is a template that you can adapt to your own tastes. Choose your favourite white fish, the poaching liquid and the vegetables you want to serve with it! A great meal for busy weeknights.
Instructions
Place the filets in the pan. Add liquid almost to cover the filets, and then top them with tomato slices. (If you prefer, you can remove the skin and seeds but that's up to you).
Bring the liquid to a low boil, cover, turn down the heat and simmer for 3-6 minutes (depending on the thickness of the filets) until the fish flakes when tested with a fork.
While the fish is cooking, melt the butter in the saucepan or ramekin. Then add up to a tablespoon of lemon juice and salt and pepper to taste. Set aside.
When the fish is done, gently lift the filets out of the liquid with a spatula. Top with a bit of the butter and lemon juice mixture and the chopped parsley or chives.
Serve with rice, potatoes or your favourite green vegetables.
Want to get fishmonger-fresh fish to try these recipes? We have a great range of white fish available in our shop. Simply fill your basket and we'll deliver to your door!