Packed lunches are not only for kids! Bringing your lunch to work not only saves you money but you can make easy, healthy meal that will make all your co-workers jealous! It's also a great way to use leftovers! Here are 3 recipes for tasty salads that are quick to prepare and easy to pack away.
Prawns 'Sushi' Bowl
Inspired by sushi, this bowl doesn't involve raw fish but tasty prawns. This salad is super easy to make, especially if you buy cooked prawns or if you have leftover cooked rice. Enjoy cold and adjust seasoning to your preference!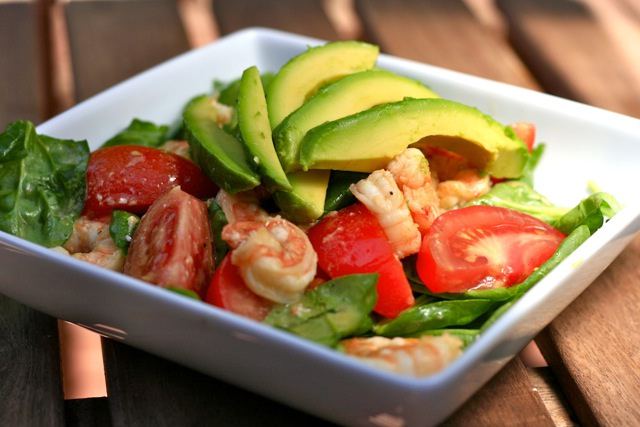 Prawns 'Sushi' Bowl
Author:
Ingredients
1 1/2 cup cooked short grain rice
1 tbsp rice wine vinegar
120g cooked prawns
2 tsp extra-virgin olive oil
kosher salt
1 avocado, thinly sliced
1/3 cup diced cucumber
1 medium carrot, peeled and sliced into matchsticks
2 tbsp mayonnaise
1 tbsp sriracha
1 tbsp lemon juice, divided
Soy sauce, for serving
Toasted sesame seeds, for garnish
Instructions
In a bowl, toss rice with rice wine vinegar. Season with salt to taste.
Toss prawns with 1 tablespoon olive oil. Season with salt to taste and place on top of rice. Arrange avocado, cucumber, and carrots on top of rice next to prawns.
Whisk together mayonnaise, sriracha and lemon juice and drizzle over the sushi bowl. Drizzle with soy sauce and sprinkle with toasted sesame seeds. Drizzle with soy sauce if desired.
Salmon & Lentil Caprese Salad
A super tasty salad with salmon and lentils for a health kick and mozzarella and a balsamic drizzle for a truly indulgent taste! Can be served straight away or packed and enjoyed cold the day after.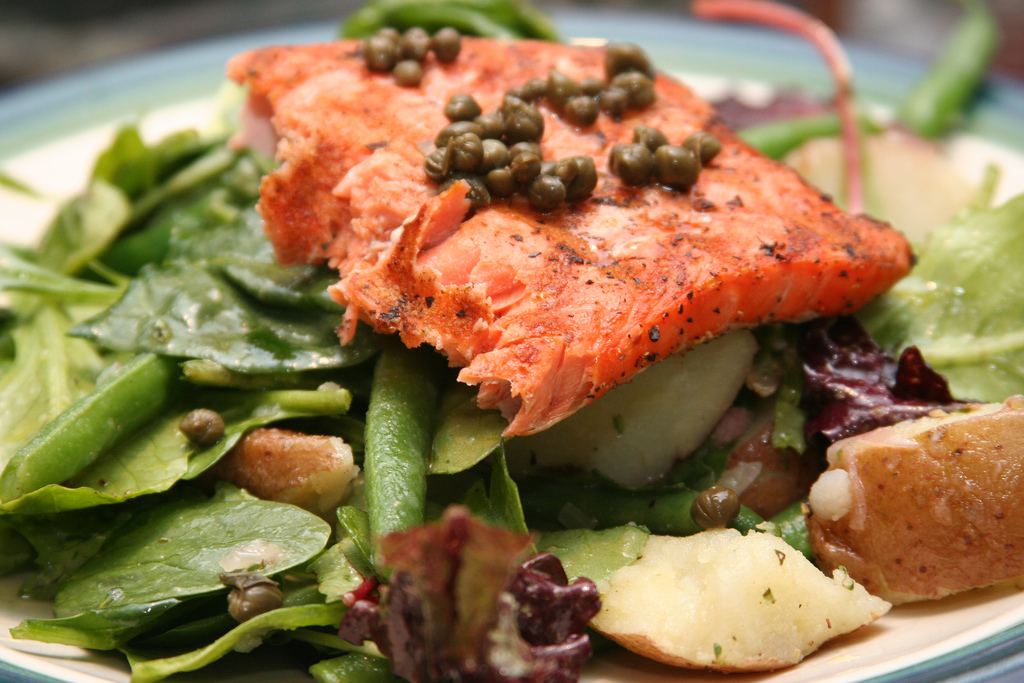 Salmon & Lentil Caprese Salad
Author:
Ingredients
350g salmon
salt and pepper to taste
1 tablespoon freshly squeezed lemon juice
6 cups tossed spring greens
1 cup cooked lentils
1 cup cherry tomatoes, quartered
½ cup mozzarella balls
2 cups balsamic vinegar
freshly cracked black pepper
Instructions
Preheat oven to 200 degrees C and lightly grease a baking dish. Season both sides of salmon with salt and pepper, then drizzle with lemon juice. Place salmon in prepared dish and bake for 10-15 minutes until pink and flaky.
While salmon is baking, prepare the balsamic reduction. In a small saucepan bring balsamic vinegar to a boil, then reduce heat and allow to simmer for about 15 minutes until slightly thickened. Remove from heat and transfer to a bowl to cool.
Chop salmon into strips or cubes. In a large bowl toss together the salmon, spring greens, lentils, cherry tomatoes, and mozzarella. Just before serving, drizzle with balsamic reduction and sprinkle with black pepper.
Crab Salad
Crab is a great choice for added protein in salads! Dressed crab is widely available so you don't have to prepare a whole crab yourself.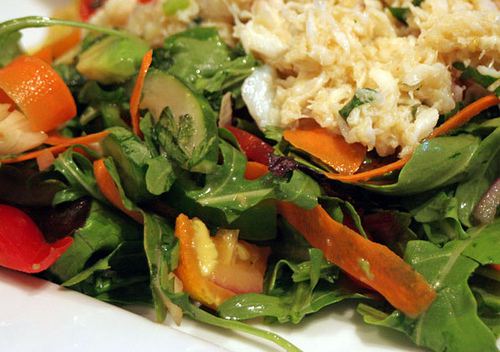 Crab Salad
Author:
Ingredients
450 g lump crab meat
50 g mayonnaise
2 tbsp Greek yogurt
2 tbsp lemon juice
1 tsp Worcestershire sauce
50 g celery minced
80 g onion minced
70 g red pepper minced
2 tbsp parsley minced
Salt pepper and hot sauce – to taste
Instructions
Pick through crab meat to make sure there are no shells.
Meanwhile, whisk together mayo, yogurt, lemon juice and Worcestershire sauce.
Add crab and veggies to the mayo mixture and combine well.
Season with salt, pepper and hot sauce to taste. Serve alongside more greens if desired.