Seafood Week is in full swing and we're still celebrating everything that fish & seafood have to offer! Have you entered our competition yet? You could win £50 worth of fish and seafood of your choice, delivered for free! Imagine what you could cook, what would you choose? If you fancy treating yourself and loved ones to a tasty pizza, here are 3 great recipes using prawns, salmon and scallops!
If you're in a rush, feel free to use shop-bought dough or replace the pizza dough by flatbread or even naan bread!
Spicy Prawns Pizza Recipe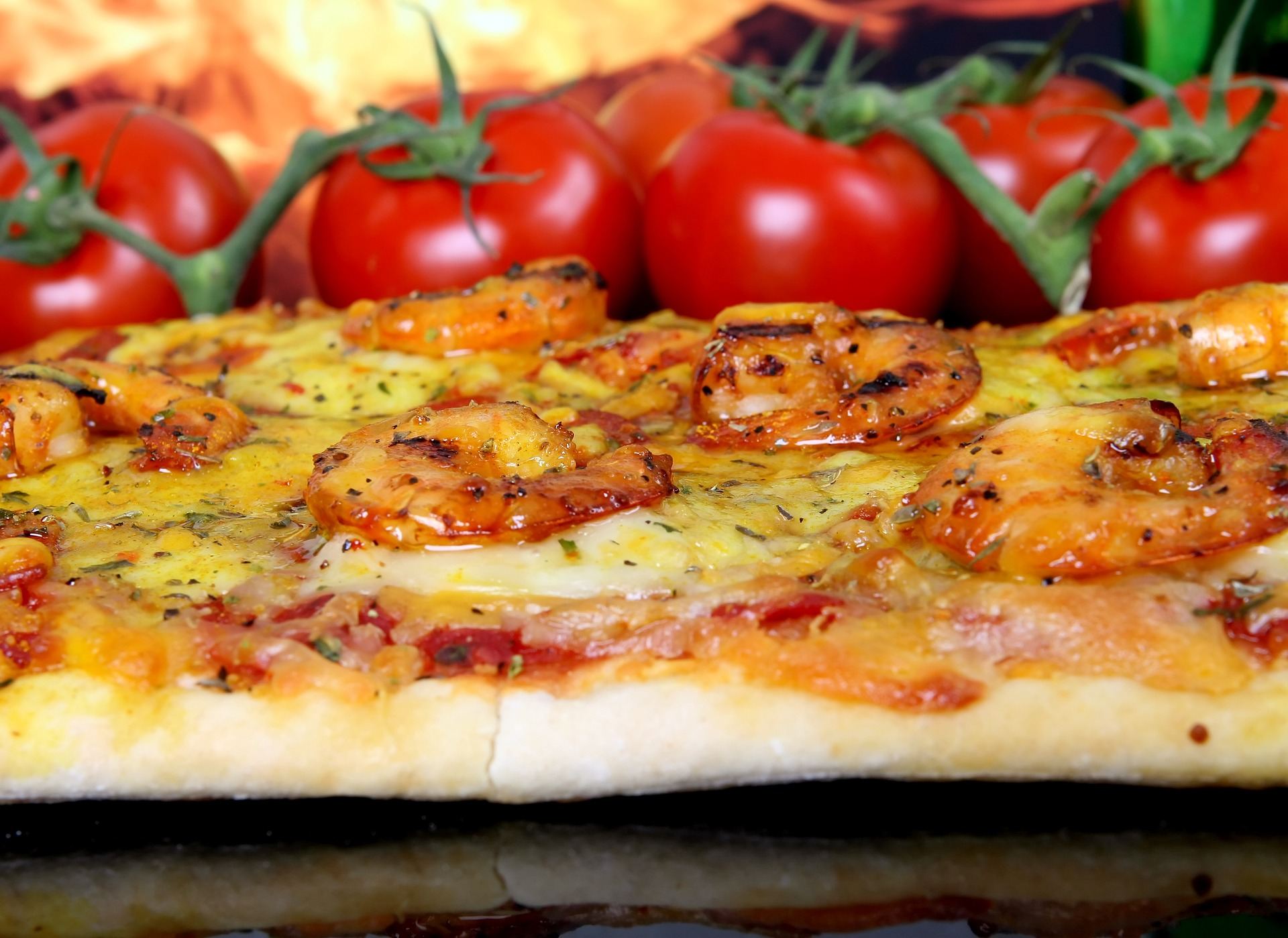 Spicy Prawn Pizza
Author:
Prep time:
Cook time:
Total time:
Ingredients
For the dough:
250g pack white bread mix
2 tbsp extra-virgin olive oil, plus a bit extra
150ml warm water
plain flour, for dusting
For the sauce:
200g can chopped plum tomato
1 tbsp tomato purée
1 garlic clove, crushed
pinch of sugar (caster or granulated)
For the toppings:
3 tbsp mascarpone
3 tbsp (about 20g) finely grated parmesan
10 cherry tomatoes, halved
12 large raw prawns, peeled (frozen and defrosted is fine), patted dry
2 rosemary sprigs, needles roughly chopped
generous pinch chilli flakes
handful pitted green olives, halved (or use capers)
small drizzle extra-virgin olive oil
Instructions
Make the dough the day before. Put the bread mix in a large bowl. Combine the oil with the warm water in a jug, then tip onto the mix. Stir to a soft dough and set aside for 5 mins.
Flour the work surface and your hands well, then knead the dough for 5 mins until springy and smooth. Squish some oil around in a large food bag, then pop in the dough and tie the top, leaving the dough room to grow. Leave to rise in the fridge.
To make the sauce, simply stir the ingredients together. When ready to cook, heat the oven to 200 degrees Celsius. Dust a large baking sheet and the work surface with a little flour. Split the dough into 2 equal pieces. (Do not knead it or it will become too springy.) Roll the dough into large slipper shapes, about 30cm long. Lift onto the baking sheet.
Spread the sauce over the pizzas, then scatter with small dollops of mascarpone, the Parmesan, cherry tomatoes, prawns, rosemary, chilli flakes, olives and plenty of seasoning. Drizzle with a little oil. Bake the pizzas for 10-13 mins until the base is crisp and golden, the prawns cooked through and the cheese bubbling. Transfer to a board and serve straight away.
Smoked Salmon & Goat Cheese Pizza Recipe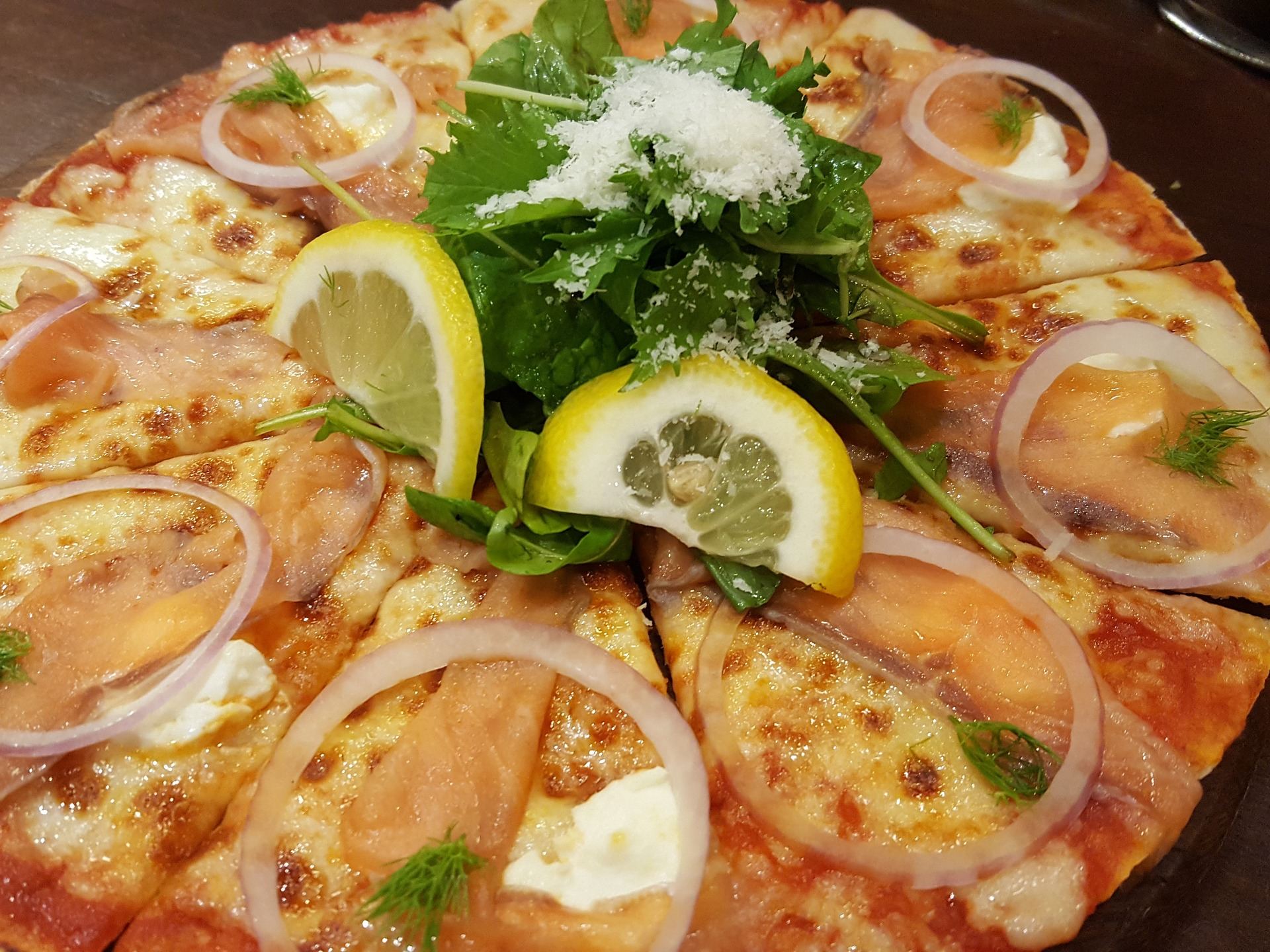 Smoked Salmon & Goat Cheese Pizza
Author:
Prep time:
Cook time:
Total time:
Ingredients
Dough:
1 cup warm water
1 tablespoon honey
1 tablespoon dry yeast
2 1/2 cups flour
1 tsp salt
4 tbsp olive oil
Filling:
3 plum tomatoes, sliced
1 cup crumbled goat cheese
2 tbsp olive oil
salt & pepper
170g sliced smoked salmon
rocket leaves
Herb Sauce:
1 1/2 cup parsley leaves
1/4 cup toasted pine nuts
olive oil
salt & pepper
Instructions
Start with the dough. In a bowl mix water, honey, and yeast. Leave it for 5 minutes so that the yeast starts to work.
Add flour, salt, and oil. Work the dough together.
Cover with plastic and let it rise for 1 hour.
On a baking tray press the dough out with your fingers to form a large pizza.
Next, top the pizza with tomatoes and goat cheese and drizzle with oil, salt, and pepper.
Bake at 200°C until golden, about 15 minutes.
While it bakes, chop the parsley and pine nuts on a chopping board.
Place in a bowl and add enough oil so it forms a thick sauce. Season with salt and pepper.
Take out the pizza and add smoked salmon, herb sauce, and rocket.
Scallops & Bacon Pizza Recipe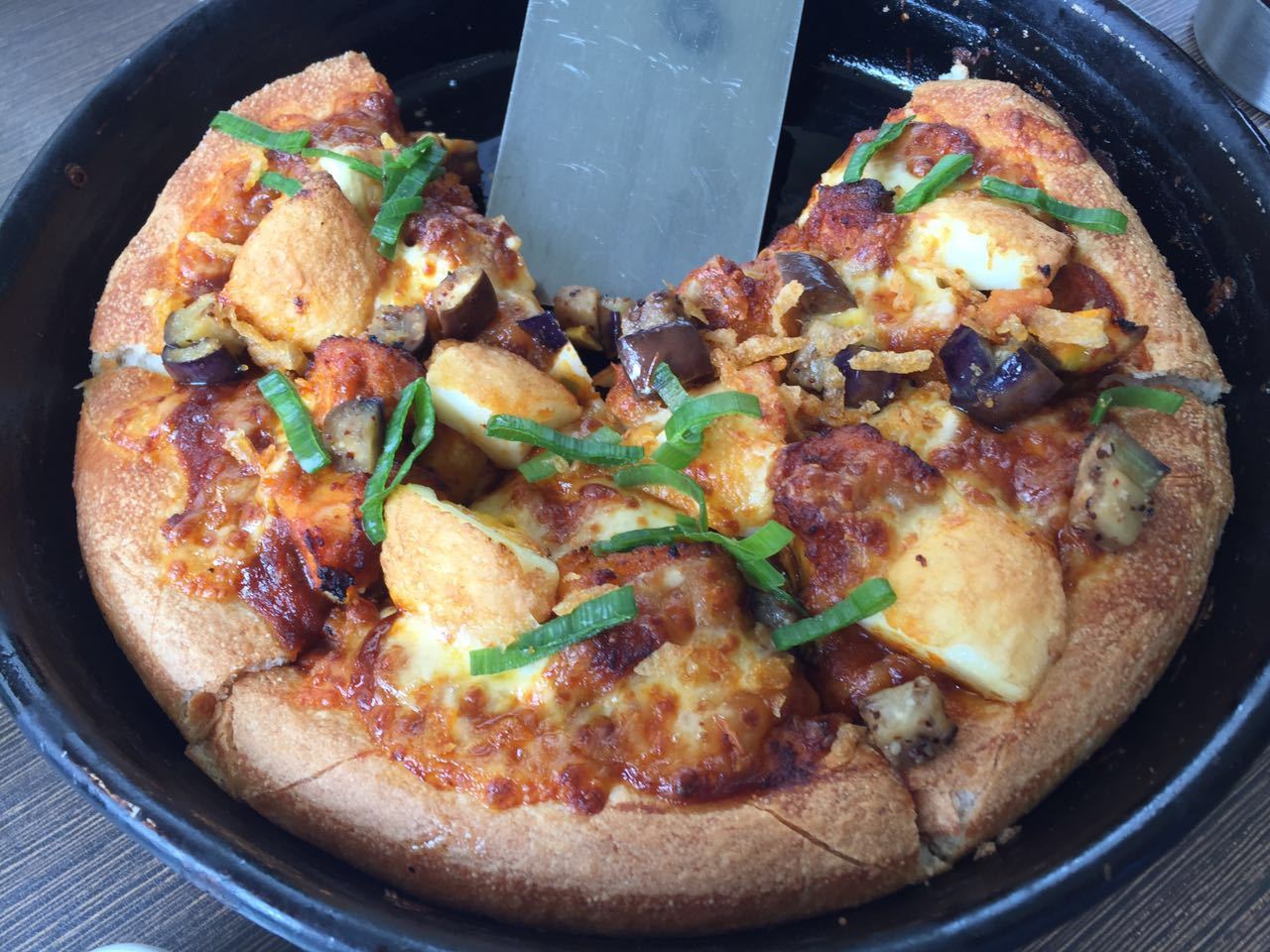 Scallop and Bacon Pizza
Author:
Prep time:
Cook time:
Total time:
Ingredients
3 garlic cloves, crushed
1/4 cup plus 2 tbsp extra-virgin olive oil, plus more for drizzling
1/4 cup all-purpose flour, plus more for dusting
1 1/2 cups whole milk
1/4 cup freshly grated Parmigiano-Reggiano cheese
2 tbsp fresh lemon juice
Kosher salt
Pepper
Cornflour, for dusting
1 pound pizza dough
4 slices thick-cut bacon (about 150g)
4 large scallops (about 150g), sliced crosswise 1/4 inch thick
1 cup baby rocket
Instructions
Preheat the oven to 250°C. In a medium saucepan, cook the garlic in 1/4 cup of the olive oil over moderately low heat until it starts to sizzle, about 3 minutes. Whisk in the 1/4 cup of flour until smooth and cook, whisking, until lightly golden, about 3 minutes. Slowly whisk in the milk and cook, whisking, until the béchamel is smooth and thickened, 2 to 3 minutes. Whisk in the cheese. Stir in 1 tablespoon of the lemon juice and season with salt and pepper. Transfer the béchamel to
a small bowl. Discard the garlic.
Lightly dust a baking sheet with cornflour. On a lightly floured work surface, using
a lightly floured rolling pin, roll out the dough into a 12-inch round. Transfer to the prepared sheet. Brush the remaining 2 tablespoons of olive oil all over the dough and spread the béchamel evenly on top, leaving a 1-inch border around the edge. Bake on the bottom rack of the oven for about 18 minutes, until the dough is almost cooked through.
Meanwhile, in a nonstick medium skillet, cook the bacon over moderate heat, turning, until golden and crisp, 7 to 8 minutes. Transfer to paper towels to drain. Chop the bacon.
Top the pizza with the scallops and drizzle with olive oil. Bake for about 3 minutes, until the béchamel is golden and bubbling and the scallops are just opaque.
In a small bowl, toss the rocket with the remaining 1 tablespoon of lemon juice. Top the pizza with the bacon and rocket and serve hot.