We're always looking forward to the festive season. Christmas eve, Christmas day or New Year's Eve, there are plenty of opportunities to show your loved ones your culinary skills or experiment with a new recipe. If you're lacking inspiration or just want to try something new, we have picked 3 starter recipes that will be perfect for Christmas or any meal during the festive season.
Pan-fried scallops with crisp pancetta, watercress & lemon crème fraîche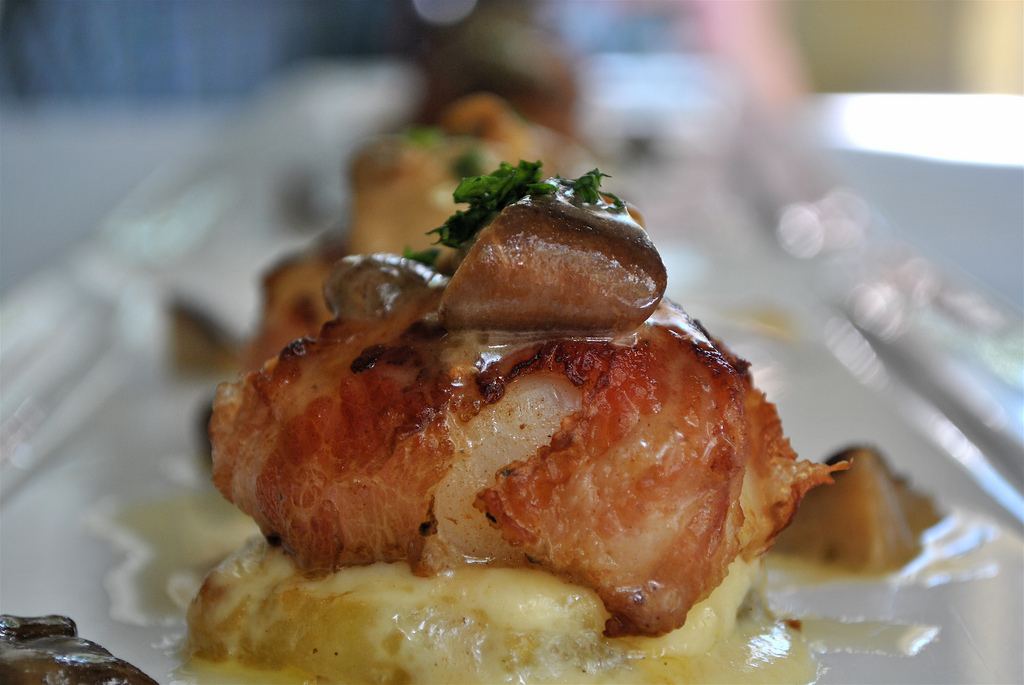 Scallops, pancetta, watercress & lemon crème fraîche
Author:
Prep time:
Cook time:
Total time:
The flavour combination is a real treat – a perfect festive starter that is also really easy and quick to make.
Ingredients
1 tbsp extra virgin olive oil
0.5 tsp Dijon mustard
1 tsp white wine vinegar
25 g crème fraîche
Zest and juice of quarter lemon
25 g fresh watercress leaves picked and thick stalks discarded
40 g diced pancetta
Freshly ground black pepper
Instructions
In a large bowl, whisk together the olive oil, mustard and vinegar and season with black pepper.
In a separate bowl, mix the crème fraîche with half the lemon juice. Set aside. Divide the watercress between each plate and drizzle with the dressing.
Heat a dry frying pan until hot. Add the pancetta and fry for 2 minutes until it begins to release some fat, then add the scallops and fry for 30 seconds to 1 minute on each side, until opaque and just cooked through. Add the remaining lemon juice to the pan.
Place 3 scallops on each plate of watercress, spooning over the pancetta and pan juices. Serve with the lemon crème fraîche and garnish with the zest.
Smoked salmon soufflés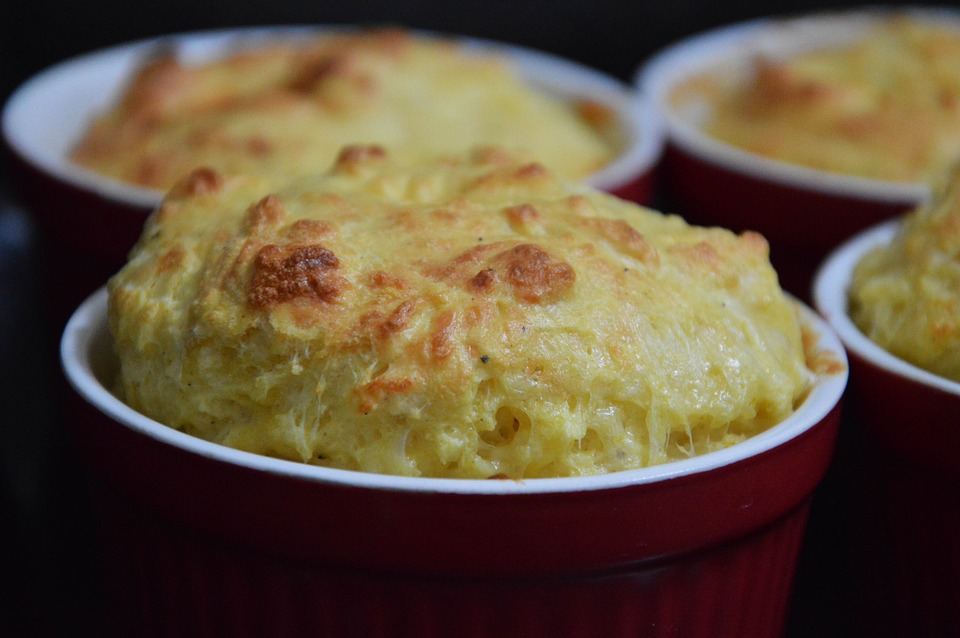 Smoked salmon soufflés
Author:
Prep time:
Cook time:
Total time:
Christmas day can be a very busy one. These soufflés are freezer friendly; you can make them ahead of the big day and reheat them in the oven just before serving.
Ingredients
40g butter
25g plain flour
300ml milk
85g Philadelphia cheese (or another kind of cream cheese)
2 tsp chopped dill
3 large eggs, separated
Zest ½ lemon
To serve:
6 tsp crème fraîche
2 large slices smoked salmon
Dill sprigs
Instructions
Put the butter, flour and milk in a pan and cook, stirring over the heat until thickened. Stir in the cheese, in small spoonfuls, and the dill; season to taste then beat to incorporate.
Heat oven to 200C/180C fan/gas 6. Butter 6 x 150ml soufflé dishes and line the base with baking paper. Stir the egg yolks into the sauce, add the chopped salmon and lemon. Whisk the egg whites until stiff, then carefully fold into the salmon mix. Spoon into the dishes and bake in a tin half-filled with cold water for 15 mins until risen and golden. Cool; don't worry if they sink.
To freeze, cool completely, then overwrap the dishes with baking paper and foil. They will keep in the freezer for 6 weeks. Thaw for 5 hrs in the fridge.
When ready to serve, very carefully turn the soufflés out of their dishes, peel off the lining paper and place on squares of baking paper. Top with the crème fraîche and bake for 10-15 mins at 200C/180C fan/gas 6 until the soufflés start to puff up. Quickly top each with a frill of salmon and a dill sprig. Serve on their own or with some dressed salad leaves.
Arbroath Smokie Mousse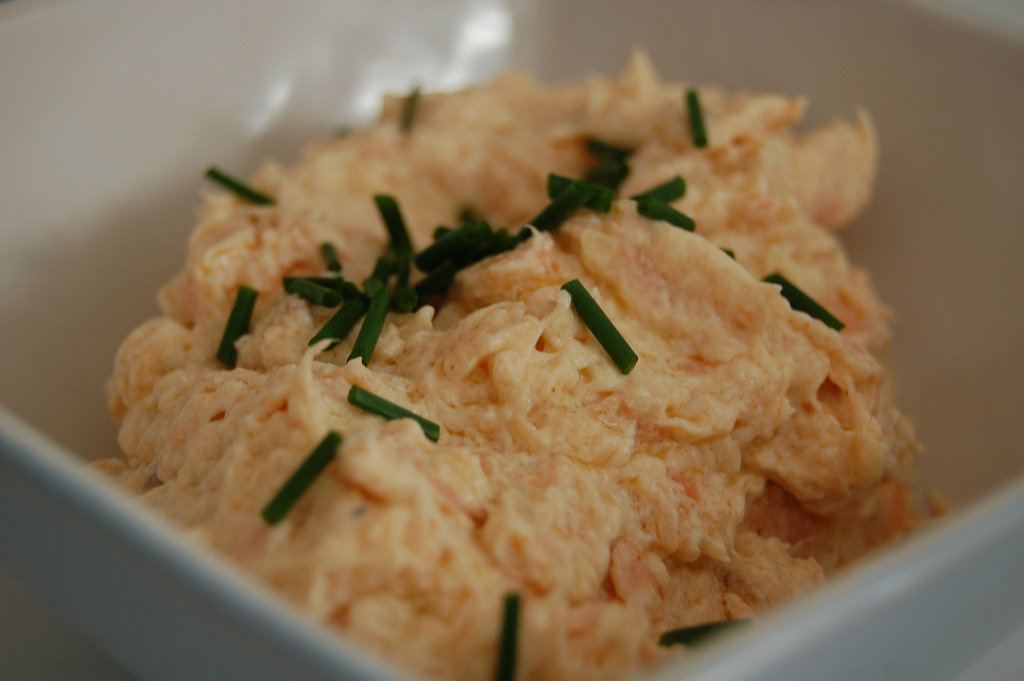 Arbroath Smokie Mousse
Author:
Ingredients
1 pair of Arbroath smokies, about 400g
2 eggs
7g leaf gelatine (4 sheets measuring about 11 x 7.5cm each)
10g butter
200ml milk
10g sauce flour
125g mayonnaise
a good pinch of cayenne
3 tablespoons fine capers
2 tablespoons chopped parsley
50ml double cream, lightly whipped
seasoning
To serve:
30g watercress
2 tablespoons fine capers
cayenne pepper
Instructions
Begin with the eggs by placing them in cold water, bringing them up to a fast boil, then timing them for 7 minutes. Then cool them under a cold running tap and peel off the shells.
Now remove the skin and bones from the Smokies (they will come away very easily), then flake the flesh into small pieces and chop the eggs similarly.
Next, soak the gelatine leaves in a bowl in cold water and in a medium saucepan, place the butter, milk and flour. Whisk these continuously together over a medium heat so the mixture will gradually thicken as it comes up to a simmer. Then leave it on the barest simmer for 3–4 minutes, stirring often.
After that remove it from the heat, squeeze the excess water from the gelatine then whisk the gelatine into the hot sauce to dissolve it – which will happen quite quickly.
Now transfer the sauce to a bowl, let it cool for about 10 minutes before stirring in the mayonnaise and cayenne and seasoning well.
Next stir in the Smokie pieces, eggs, capers and parsley, then finally fold in the whipped cream.
Divide the mixture equally between the ramekins, cover them with clingfilm and chill for several hours.
When you want to serve them, remove from the fridge 30 minutes before, then slide a small palette knife around the edge of each one and turn out onto serving plates.
Give each one a dusting of cayenne and a sprinkling of capers on top and garnish with watercress.