Valentine's Day is an ideal time to treat your loved one to something special. But do not worry, if you're not a skilled chef yet, we have selected two recipes that are easy enough to make but are still perfect for a romantic meal.
Roasted Cod with Olives and Lemon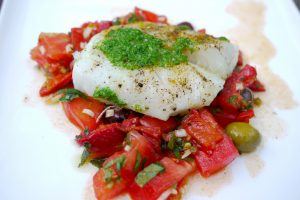 Roasted Cod with Olives & Lemon
Author:
Looking to make something special that you know your loved one will enjoy? This Mediterranean recipe is sure to impress! Simple yet elegant, you can even use leftovers (if there are any!) to make fish cakes.
Ingredients
3 small lemons
8 sprig fresh thyme
20 pimento-stuffed green olives
18 small red potatoes
2 tbsp. olive oil
½ tsp. Sea Salt
¼ tsp. Freshly ground pepper
Instructions
Preheat oven to 450 degrees F. Place lemon slices in a single layer on a large roasting or baking pan. Lay thyme sprigs over lemons and sprinkle with olives.
Halve each potato, place in a large bowl, and fill with water to cover. Microwave until potatoes are easily pierced with a knife, about 10 minutes. Drain potatoes and scatter around edge of pan.
Place fillets on lemon and drizzle olive oil over fish and potatoes. Season with salt and pepper.

Transfer to oven, reduce temperature to 325 degrees F, and roast until fish is cooked through, about 25 minutes. Serve fish with potatoes and olives.
Honey Soy Glazed Salmon with Mushrooms and Peppers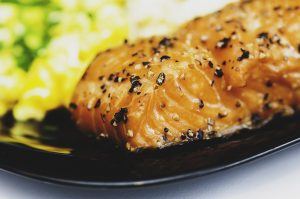 Honey Soy Glazed Salmon recipe
Author:
This recipe is a great new way to enjoy an old favourite and we know your loved one will love it too! Healthy and indulgent, it is the perfect recipe for a romantic dinner at home.
Ingredients
¼ c. seasoned rice wine vinegar
2 tbsp. toasted sesame oil
⅓ c. light soy sauce
⅓ c. Honey
2 to 3 tsp. chili-garlic sauce
1 tbsp. Chinese or Dijon mustard
1 skin-on salmon fillet
2 package shiitake mushrooms
1 red bell pepper
1 large bunch green onions
2 package instant microwave Jasmine rice
Toasted sesame seeds
Instructions
Heat oven to 475 degrees F. Stir together 3 tablespoons vinegar, 1 tablespoon sesame oil, soy sauce, and next 3 ingredients; set aside 1/2 cup of sauce. Place salmon, skin side down, on a large parchment lined rimmed baking sheet. Brush with 2 tablespoons soy mixture.
Bake salmon at 475 degrees F for 8 minutes. Toss mushrooms and next two ingredients with 1 tablespoon of soy mixture. Scatter vegetables around fish in hot pan and brush fish with soy mixture. Bake 8 to 10 more minutes or until desired degree of doneness and vegetables are just tender.
Prepare rice according to package directions. Stir rice and remaining 1 tablespoon each of vinegar and sesame oil in a serving bowl; season with salt and pepper to taste. Lift fish from skin with two large spatulas and transfer to a platter with vegetables; sprinkle with sesame seeds. Serve with rice and reserved 1/2 cup sauce.